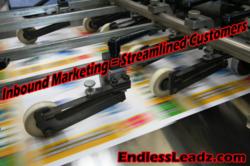 The basic precept of inbound marketing is that the marketer does not overtly promote products or services, but instead seeks to educate, and to inform
Baltimore, Maryland (PRWEB) February 27, 2013
According to a recent article from Business 2 Community, most Web-savvy small business owners are aware of the importance of establishing and maintaining a LinkedIn account. What many small business owners do not realize, the article continues, is the sheer range of uses that LinkedIn provides—including uses in inbound marketing. In fact, the article contends that LinkedIn is a peerlessly effective tool for generating leads through inbound marketing techniques—a contention that has won the attention of Baltimore-based digital marketing firm Endless Leadz. Endless Leadz has issued a new press statement, commenting on the article and on the role of LinkedIn as an inbound marketing tool.
"The basic precept of inbound marketing is that the marketer does not overtly promote products or services, but instead seeks to educate, and to inform," comments Zsolt Bicskey, the founder and president of Endless Leadz. "In other words, businesses establish themselves as reputable and authoritative, and trust that their expertise draws leads into the sales funnel. The argument that this article makes—which is spot on—is that social networks offer peerless opportunities for inbound marketing, and that LinkedIn is especially effective in this regard."
The Business 2 Community notes a few particular steps for business owners seeking to attract leads through the use of LinkedIn. The first step is to join some professional groups; a free LinkedIn subscription allows users to join as many as 50. "There are groups for every industry, for every profession, for every job title," comments Bicskey. "As such, for business owners looking to precisely segment their prospects and reach out to each prospect group directly, there is really no better tool than LinkedIn."
Once business owners join these LinkedIn groups, they are encouraged to interact and to participate as much as possible—so long as they do not begin promoting their own products or services. "This is not the forum for flogging your own brand," remarks Bicskey. "Instead, business owners should work on sharing their expertise, by producing fresh, relevant, and informative content. If your content is sufficiently compelling, your leads will come to you, without you having to resort to endless self-promotion."
The Business 2 Community article offers further tips, including some guidelines for LinkedIn profile optimization. "LinkedIn is an important tool for networking, but to get the most out of it, business owners should ensure that potential clients can find them, via simple search," Bicskey advises. "This means using some strategic keywords in the LinkedIn profile itself—keywords reflecting the business' products and services."
The bottom line, says Bicskey, is that inbound marketing is something business owners cannot afford to neglect—and as such, LinkedIn is invaluable. "For establishing your brand as one of expertise and repute, LinkedIn offers limitless potential," concludes Bicskey.
Endless Leadz provides a wealth of digital marketing consultation services, including insights into inbound marketing and LinkedIn optimization.
ABOUT:
Endless Leadz provides marketing help to small businesses, corporate clients and publishers. It specializes in generating online buzz and lead generation through marketing services and search engine strategies. To find out what Endless Leadz can do for you, visit http://www.EndlessLeadz.com. Endless Leadz can be found on Facebook at http://www.Facebook.com/EndlessLeadz and on Twitter at http://www.Twitter.com/EndlessLeadz. Visit Endless Leadz YouTube channel at http://www.YouTube.com/EndlessLeadz.