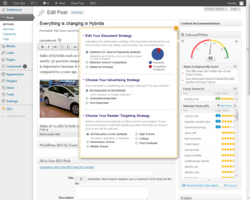 'This [recognition] further validates our mission to help make content optimization part of the online writer's natural workflow.' -- Jay McCarthy, VP of marketing, InboundWriter.
San Francisco, CA (PRWEB) May 11, 2012
InboundWriter, the first content optimization system designed specifically for writers, was named a Best New Product or Service Marketing/Public Relations Software Solution category Finalist today in The 2012 American Business Awards, the nation's premier business awards program. The company is one of five finalists in this category.
More than 3,000 nominations from organizations of all sizes and in virtually every industry were submitted this year for consideration. From these submissions, companies such as Apple, Chipotle Mexican Grill, The Coca-Cola Company, Delta Air Lines, Ford Motor Company, ING DIRECT, NASCAR, Overstock.com, and YouSendIt were recognized in the finals in a variety of categories. Finalists were chosen by more than 140 business professionals nationwide during preliminary judging in April and May. Ten specialized judging committees will determine Stevie Award placements during final judging, which will take place May 14 - 25. 2012.
"We are thrilled to be recognized by The American Business Awards organization," said Jay McCarthy, VP of marketing at InboundWriter. "This further validates our mission to help make content optimization part of the online writer's natural workflow."
The InboundWriter web application and WordPress plugin enables writers to optimize content in real-time while maintaining its quality and integrity. InboundWriter's proprietary information mining and data processing engine delivers relevant insights from a variety of web and social media sources. It then provides content optimization recommendations to the user during the writing process. The content is scored on a scale of 1 to 100 based on its findability in context of the writer's desired content optimization strategy. Here's what InboundWriter customer, Dr. Chuck Parker of CorePsych Blog, who has experienced great success with the product, had to say:
"I want to build my business based on being part of the conversation. I appreciate having an audience for my thought leadership and InboundWriter has become instrumental in getting me in front of the right readers."
This year's Gold, Silver, and Bronze Stevie Award winners will be announced at two award banquets: the first will take place on June 18 at the Marriott Marquis Hotel in New York; and the second, a new event, will be held on September 17 at the Julia Morgan Ballroom in San Francisco, California and will honor Stevie Award winners in all tech-related categories. More than 800 executives are expected to attend the events. The ceremonies will be broadcast nationwide by the Business TalkRadio Network. More details about The American Business Awards and the list of Finalists in all categories are available at http://www.stevieawards.com/aba.
About InboundWriter
InboundWriter is a cloud-based content optimization application that makes it easy for content marketers and professional writers of all types create more relevant and web-friendly content. InboundWriter integrates real-time search and social intelligence directly into the writing process itself, making it an indispensable tool for improving content reach and engagement. Until now, the traditional online writing process was broken into separate stages – research, writing and optimization. InboundWriter combines them for the first time in the cloud, and as a WordPress plugin, to drive dramatic improvements in paid and organic site traffic as well as engagement. For more information, visit http://www.inboundwriter.com, read the blog or follow us on Twitter and Facebook.
About the Stevie Awards
Stevie Awards are conferred in four programs: The American Business Awards, The International Business Awards, the Stevie Awards for Women in Business, and the Stevie Awards for Sales & Customer Service. Honoring organizations of all types and sizes and the people behind them, the Stevies recognize outstanding performances in the workplace worldwide. Learn more about The Stevie Awards at http://www.stevieawards.com.
Sponsors and partners of The 2012 American Business Awards include American Support, Business TalkRadio Network, Callidus Software, Citrix Online, Dynamic Research Corporation, iolo technologies, John Hancock Funds, LifeLock, PetRays, Primus Telecommunications Group, SoftPro, and VerticalResponse.