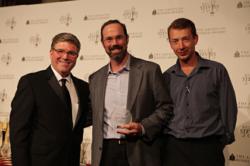 People's Choice Stevie Award winners, including InboundWriter, were determined by popular vote with more than 98,000 votes cast in this year's competition.
San Francisco, CA (PRWEB) September 21, 2012
InboundWriter, the first content optimization system designed specifically for writers, today announced that the company was named the winner of the 2012 People's Choice Stevie® Award in the "Favorite Marketing / PR Software Solution" category and awarded a Silver Stevie in the "New Product / Service of the Year" competition, same category, at the 10th Annual American Business AwardsSM.
More than 3,000 nominations from organizations of all sizes and in virtually every industry were submitted for consideration in a wide range of categories. Participating organizations included such companies as Apple, Chipotle Mexican Grill, The Coca-Cola Company, Delta Air Lines, Ford Motor Company, ING DIRECT, NASCAR, Overstock.com, and YouSendIt. Award finalists were chosen by more than 140 business professionals nationwide during preliminary judging in April and May. InboundWriter was among five finalists named in the Marketing / PR Software Solution category for New Product / Service of the Year during the peer-review process.
In addition to peer-reviews, all New Product / Service finalists were then nominated for the organization's 2012 People's Choice Stevie Awards to be evaluated by the public. People's Choice Stevie Award winners, including InboundWriter, were determined by popular vote with more than 98,000 votes cast in this year's competition.
"The People's Choice Stevie Awards for Favorite New Products have become one of the most popular features of The American Business Awards, because they complement the peer-review process of our awards competition with another means of validation for product concepts and performance," said Michael Gallagher, president and founder of the Stevie Awards.
The InboundWriter web application and WordPress plugin allows writers to optimize content in real-time while maintaining its quality and integrity. InboundWriter's proprietary information mining and data processing software delivers deep insights from a variety of web and social media sources in order to enable writers to maximize their content's chances of being discovered on the web. The application provides content optimization recommendations to the user during the writing process as part of the natural workflow. This combination of insight and recommendations enables companies to measure effectiveness in an objective way while also implementing content optimization with high degrees of automation at scale for both small and large organizations.
"We are beyond delighted to be recognized as the winner in the People's Choice popular vote competition and the Silver Stevie winner in our category for New Product of the Year," said Skip Besthoff, CEO of InboundWriter. "Our team has been working arduously since launching InboundWriter a year and a half ago to provide a top-notch content optimization software created specifically for writers. Having our work validated, both by our users and peer-review, means a great deal."
Award winners were honored this week at the Julia Morgan Ballroom in San Francisco, Calif. The full list of American Business Awards winners is available at http://www.stevieawards.com/aba. More information about InboundWriter is available at http://www.inboundwriter.com.
About InboundWriter
InboundWriter is a cloud-based content optimization application that makes it easy for content marketers and professional writers of all types create more relevant and web-friendly content. InboundWriter integrates real-time search and social intelligence directly into the writing process itself, making it an indispensable tool for improving content reach and engagement. Until now, the traditional online writing process was broken into separate stages – research, writing and optimization. InboundWriter combines them for the first time in the cloud, and as a WordPress plugin, to drive dramatic improvements in paid and organic site traffic as well as engagement. For more information, visit inboundwriter.com, read the blog or follow us on Twitter and Facebook.
About the Stevie Awards
Stevie Awards are conferred in four programs: The American Business Awards, The International Business Awards, the Stevie Awards for Women in Business, and the Stevie Awards for Sales & Customer Service. Honoring organizations of all types and sizes and the people behind them, the Stevies recognize outstanding performances in the workplace worldwide. Learn more about The Stevie Awards at http://www.stevieawards.com.
Sponsors and partners of The 2012 American Business Awards include American Support, Business TalkRadio Network, CallidusCloud, Citrix Online, Dynamic Research Corporation, iolo technologies, John Hancock Funds, LifeLock, PetRays, Primus Telecommunications Group, SoftPro, and VerticalResponse.