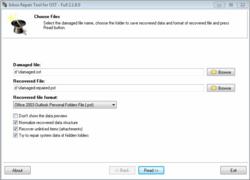 Get 15% OFF by using discount coupon: PRWEB15
Toronto, ON (PRWEB) November 29, 2011
Introducing Inbox Repair Tool for OST ( click here to open the site ), a recovery toolkit that guides even an inexperienced user through the process of recovery their valuable .OST files. The tool is automated and extremely functional, and in most cases can completely restore emails and data.
OST files (Offline Storage Tables) are used by Outlook, as well as the Microsoft IM client, to store files locally, rather than on the server. This is convenient for two reasons. All you files are right there on the computer you use, and less space is taken up on the server. In the unlucky event that an .OST file becomes corrupted or damaged, Microsoft can no longer work with them. Important email and email attachments are lost, which can be detrimental to someone's life or someone's business.
As mentioned above, .OST files not only contain emails, but also email attachments, calendar items, tasks, notes, contacts, and more. When the .OST files get damaged, you lose all that data. In the past, hiring a third party company to come in and fix the problem was the only option.
Now the Inbox Repair Tool for OST is there to save time and money. It starts with a simple download, is easy to install, and offers amazing customer support. Inbox Repair Tool for OST is the one answer on two questions: How to convert OST to PST format? and How to fix damaged OST files?
The features of this state-of-the-art tool are:

.OST files are easily migrated to Microsoft Outlook – emails, attachments and more;
Folder structures are kept in place;
Allows the user to inspect the .OST files through a special viewer;
Quickly converts .OST files to stable .PST file formats;
Employs simple wizards to guide the user through the process painlessly.
Files in excess to 4GB are handled easily with Inbox Repair Tool for OST.
The tool is compatible with Microsoft Outlook .OST files for versions of Outlook 97 through 2010.
Download Inbox Repair Tool for OST Now!
For a limited time Inbox Repair Tool for OST can be purchased with 15% OFF using PRWEB15 coupon code. Start order, enter coupon code and recalculate the price to apply discount.
###