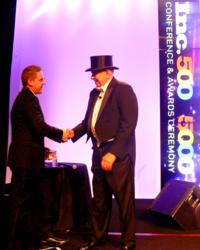 Baltimore, MD (PRWEB) October 15, 2012
Finding growth and success amidst a slow-to-recover economy, Linq Services sits among favorable companies of other entrepreneurs at the 2012 awards ceremony. Linq Services acts as an advocate and single-point solution for businesses, dealing directly with their wireless services provider to handle account management of company-wide wireless service.
Having increased its yearly revenue by more than ten-fold over the last four years, and growing at a rate of 1200%, Linq Services is quickly gaining market share. Linq was also ranked #16 in Inc. Magazine's Top Business & Product Services List, and #5 in Top Baltimore Businesses.
The company's unique approach to customer service in the wireless industry has helped spur their growth surge in the market. Likewise, a heavy investment in personnel and dedication to employee wellbeing has boosted their internal growth.
Clients choose Linq Services for extreme ease of service and low, fixed-rate invoicing, saving them time, money, and resources on their business wireless accounts. While Linq works with clients across various industries, it specializes in the management of wireless services for construction companies.
Founded in 2006, Linq Services saw an opportunity in the wireless carriers' drastic markup of business services, and developed an effective solution for the wireless industry. The company offers reliable, fixed-rate wireless service invoices, including all carrier surcharges, taxes, and overages, as well as Linq consulting and customer care. This fixed rate is guaranteed to be less than current monthly wireless charges. Linq manages business accounts with current providers, acting as companies' single point of contact, and preventing countless frustrated hours on hold, arguing with the phone company.
More information about Linq Services is available at http://www.linqservices.com/.