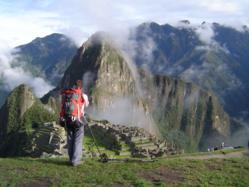 "These are by far the two most popular things that come up when I'm helping people organize trips to Peru," says Darren Hill of Active South America
Queenstown, New Zealand (PRWEB) April 28, 2012
Active South America clients hiking Machu Picchu in relative solitude just after dawn this morning are the latest travellers ticking off their bucket lists by hiking the Inca Trail to Machu Picchu. The pair completed the iconic 4-day, 43km mountain trek as part of a 14-day Peru trip with Active South America, a leading small group adventure tour operator based in New Zealand.
This fabled "Lost City of the Incas," a significant pre-Columbian site dating back to 1400 AD, remained hidden high in the Andes Mountains of Peru until American historian Hiram Bingham brought international attention to it in 1911, instantly turning it into the most popular tourist attraction in Peru. Machu Picchu was recognized as a UNESCO World Heritage Site in 1983 and voted one of the New Seven Wonders of the World in an extensive online poll in 2007.
In July of 2011, Peruvian officials limited entrance to Machu Picchu to 2,500 visitors per day (once averaging 3,500 a day during the June-August high season) to reduce the impact of tourism on the site, which archaeologists are still studying and gradually restoring. Hiking the Inca Trail is one of the best ways of gaining access to the popular site for an hour or more before the throngs begin arriving on buses by mid morning. On the last day of the classic 4-day Inca Trail trek, guides lead the hikers out of camp in the dark for one of the highlights of the trek, catching the first glimpse of Machu Picchu through the Sun Gate at first light.
Travellers hoping to hike the Inca Trail are advised to plan several months ahead, as non-refundable permits can only be secured via authorized trekking companies, such as Active South America. Access to the Inca Trail is strictly controlled, with only roughly 200 permits available a day to tourists (with the rest of the 500 daily permits going to their accompanying guides and porters). Hikers must register their name and passport number for a specific departure date and permits are not transferrable.
"If you have your heart set on crossing the Inca Trail and Machu Picchu off your bucket list, plan well in advance," says Darren Hill, a travel specialist at Active South America. "These are by far the two most popular things that come up when I'm helping people organize trips to Peru," says Hill, although he says he says he enjoyed the second week of Active South America's Jaguar 14-day Peru tour even more than Machu Picchu. "The home stay on Lake Amantani was life changing for me. And most people don't realize you can also go to the Amazon in Peru," says Hill.
About Active South America:
Active South America is a New Zealand-based tour operator specializing in bucket list travel to South America on small group adventures. In addition to family and hiking trips to Peru, they run tours to Galapagos, Ecuador and Patagonia. Call Darren Hill to discuss travel to South America or request a free brochure on 800.661.9073.