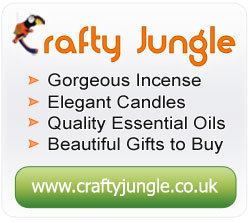 It is important to us that we provide high quality products like Wild Berry Incense, as well as the best candles and affordable gifts. The new website will allow us to continue to provide a fast service, great products and low prices that all our customers' demand. The positive testimonials we receive are a testament to our continuous improvement
UK (PRWEB) March 12, 2009
After speaking directly to its valued customers, the Crafty Jungle home fragrances company has managed to combine an easy online shopping experience coupled with value for money gifts that are very affordable.
To present its growing range of incense, candles, essential oils and fragrance oils, the home fragrances and gifts specialist Crafty Jungle, believes the key to its future lies in further investment in its online resources.
John Butcher, Business Partner in the Crafty Jungle said, "We have an enviable reputation for providing excellent customer service, as well as keen pricing to all of our UK and European retail customers. Our online service is the most important aspect to continuing our success. Through positive customer feedback we have made our new home fragrances and gift website user friendly, fast and easy to use. The company plans for continued improvements to our website services at CraftyJungle.co.uk".
The main reason the company decided to invest in a new online platform for its ecommerce business, was to continually improve upon its customer service and to provide added security for all online purchases. Customers can now find what they want quickly and securely on the new website and now have numerous options to buy their favoured gift.
Statistics show that online customers shopping for gifts demand almost instant access to what they are looking for. The company realises that having a website that responds and loads quickly to customer searches is an important improvement that was key to the choice of the new website and hosting platform.
The Crafty Jungle has continued to build a loyal customer base and specialises in incense sticks, decorative candles, essential oils and home fragrance gifts. John said, "It is important to us that we provide high quality products like Wild Berry Incense, as well as the best candles and affordable gifts. The new website will allow us to continue to provide a fast service, great products and low prices that all our customers' demand. The positive testimonials we receive are a testament to our continuous improvement".
The Crafty Jungle has had an online presence for the last four years but has been trading nearly two decades. The company's high level of customer service ensures that customers return to order again online. The company's new website now incorporates additional payment methods including Google Checkout and Paypal.
For a full range of products and prices visit the CraftyJungle.co.uk and create a free account. The company provides a money back guarantee on all of its gift products.
Contact John Butcher or Carol Fulwood for further information: email the craftyjungle.co.uk or call 0121 486 3773 (from mainland Europe call 44 121 486 3773).
# # #