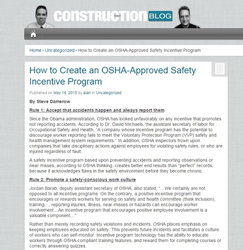 The goal of safety incentive programs should be to prevent accidents and report observations or near misses rather than aim for "perfect" records, Damerow says, "because it acknowledges flaws in the safety environment before they become chronic."
Atlanta, Georgia (PRWEB) August 21, 2015
Incentive Solutions, an Atlanta-based incentive program provider, is proud to announce their recent publication in Construction Today, one of the nation's leading construction industry publications. The piece, written by Incentive Solutions CEO and incentives expert Steve Damerow, is titled How to Create an OSHA-Approved Safety Incentive Program and offers well-researched advice on safety incentive programs best practices.
Incentive Solutions is able to position themselves as a consultative and authoritative resource for several industries due to their collaboration with many clients across many industries in achieving realistic and profitable company goals. Damerow's piece, featured in Construction Today, provides relevant and usable industry advice, as does all of Incentive Solutions' published work. The article focuses on OSHA's safety program stance, which promotes a behavior based safety culture rather than a low incident or violation count. The goal of safety incentive programs should be to prevent accidents and report observations or near misses rather than aim for "perfect" records "because it acknowledges flaws in the safety environment before they become chronic," Damerow says.
Keeping work environments safe and compliant with OSHA standards is a primary goal for construction organizations. Therefore, Incentive Solutions strives to create effective ways of motivating employees to learn and practice safe behaviors. Growing and learning along with clients to achieve their goals is Incentive Solutions' priority. As they continue to become more well-versed in real-world industry demands, Incentive Solutions is able to develop agile tools that meet complex business needs.
About Incentive Solutions
Incentive Solutions, Inc. was founded in 1994 and is based in Atlanta, GA. Part of The ISI Group, consisting of Incentive Solutions, Loyaltyworks, and Travel Solutions, Incentive Solutions offers online rewards, travel incentives, and debit card reward programs. Since its creation, Incentive Solutions has been an innovator in the incentive industry by utilizing emerging online technologies that help companies increase sales, engage and motivate employees, encourage customer loyalty, create positive work environments, and enrich sales channel relationships.
Incentive Solutions
1-866-567-7432
2299 Perimeter Park Drive, Suite 150
Atlanta GA 30341