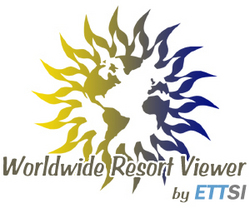 The problem was, all they could give us was a couple of spreadsheets with resort information and a folder full of images.
Daytona Beach, FL (Vocus) October 15, 2010
ETTSI Incentive Premiums, a licensed and bonded seller of travel for more than 18 years and a pioneer in the travel incentives industry, today announced the launch of its new Worldwide Resort Viewer.
Over the last decade many of the most sought after resorts in the world have converted their hotel rooms and suites to time share condos thus rendering these accommodations unavailable to the traditional traveler. Meanwhile, the time share industry has converted its inventory to a point system where owners can trade their units or "weeks" for other accommodations at other resorts in the system. Again, most travelers do not have access to this points system either. Until now!
ETTSI contacted these resorts and inquired about making their units available to ETTSI's travel clients. It turned out that much of the time share inventory is vacant or unsold throughout the year even in high season. These resorts usually don't have a reservations system of even a front desk staff to book the condos and maintaining the unsold inventory puts a huge financial strain on them. ETTSI's ability to send 1000's of travelers to them each year turned out to be a good fit and so they opened up this exclusive inventory to them to book their travel client's accommodations.
"The problem was, all they could give us was a couple of spreadsheets with resort information and a folder full of images." explains Frank Bertalli, President and CEO of ETTSI, "To make it something that our clients could use, our internet team had to convert that information into a web application and thus the Worldwide Resort Viewer was born." The launch involved adding the viewer to ETTSI's travel certificates web sites so their travel clients could browse the resorts before calling ETTSI's travel coordinators to check availability and reserve their accommodations.
The Worldwide Resort Viewer is served by a database of more than 8300 resorts in over 100 countries with almost 25,000 images. Visitors to the web sites can browse all the resorts and view photos of the inside and outside of the facilities along with a list of amenities and local attractions. Best of all, ETTSI clients receive discounts of up to 75% off the retail rental rates by booking airfare and accommodation through one of the ETTSI Travel Certificate Programs.
The websites where the viewer has been initially launched are: CondoExpressOnline.com and FlyFreeAmerica.com. Plans are in place to add a booking function to the viewer on ETTSI's CondoVacationClub.com Travel Club when it is re-launched later this year.
For additional information about ETTSI and their broad range of incentive premiums products, you can contact Frank Bertalli at PR@ETTSI.com or call 1-866-224-9650.
About ETTSI
ETTSI (Executive Tour and Travel Services, Inc.) is registered in the states of Florida, California and Nevada as a Seller of Travel. FL#ST22752, CA#ST2065118-40, NV#2006-0132, offering a full service travel agency as well as many travel and cruise packages in the form of travel certificates. For more than 18 years ETTSI has lead the sales incentives industry with unique programs and products always striving to meet the needs and exceed the expectations of the sales organizations they serve. Through the sale of their certificates, ETTSI provides travel accommodations to 1000's of travelers each year garnering them preferred pricing and preferences with airlines, motels, and many other travel related services. Please visit http://www.ETTSI.com for more information about the company and its products and services.
###