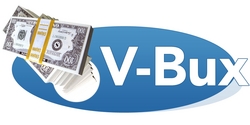 V-Bux's ongoing success owes itself to the exponential growth innate in a referral-based model. Not only does it take the burden off of the user, but it ensures a diverse and well-qualified set of leads reaches the advertiser
(PRWEB) May 7, 2008
V-Bux.com, an incentive marketing website, today announced the shipment of over $1,000,000.00 worth of rewards to its college student user base. Incepted in December of 2006, V-Bux gives web users the opportunity to receive free consumer electronics in exchange for trying third-party advertisers' products and services. V-Bux.com is owned by the Vintage Network LLC.
Unlike traditional incentive incentive marketing websites, V-Bux incorporates a referral model, ensuring quality of lead generation, and promoting long-term, organic growth. Motivated by the prospect of receiving a reward, V-Bux users participate in sponsors' products and services and refer others to do the same.
"V-Bux's ongoing success owes itself to the exponential growth innate in a referral-based model. Not only does it take the burden off of the user, but it ensures a diverse and well-qualified set of leads reaches the advertiser," said Vintage Network LLC President/CEO Jonathan Manzi.
V-Bux has become increasingly popular across college campuses, providing savvy students with an opportunity to obtain the most popular consumer electronics while trying products and services that interest them. Access to this demographic enables advertisers to create brand awareness and build customer loyalty among a young generation. "In four to six years, the vast majority of these individuals will be entering the workforce and will be starting families. Advertisers recognize the substantial value in connecting with this demographic," commented Manzi.
Vintage Network LLC holds a myriad of web properties in the digital media industry. In 2008, the company plans to expand into the international market, while continuing to grow its presence in the pay-per-performance marketplace.
For additional information on V-Bux, please contact Jason Webber at 888-250-8993 x 703.
Contact:
Jason Webber, director of public relations
Vintage Network, LLC
888-250-8993x703
http://www.v-bux.com
###