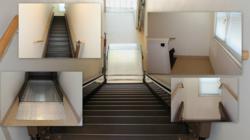 Butler is committed to provided wheelchair lifts that are made in the USA
Lewisberry, Pennsylvania (PRWEB) June 05, 2013
When seeking an accessible inclined platform wheelchair lifts for a project with the Philadelphia Housing Authority, independent wheelchair lift dealer, Total Access, turned to Butler Mobility to help wheelchair bound residents live more independently in their homes.
Total Access teamed up with the Housing Authority to help install an inclined platform wheelchair lifts that could be successfully utilized in seven new, handicapped accessible townhouses in the city.
The project required that each townhouse have an inclined platform wheelchair lift to transport wheelchair-bound residents from the main floor of the home, to the upstairs level. It wasn't an easy task, because the lifts had to fit the existing structure, just right.
Total Access knew installing a Butler Mobility inclined platform wheelchair lift would be the way to go, because of Butler's commitment to building their product in the United States. Part of the funding requirements, as part of the Economic Recovery Plan, included using a company that made equipment in the United States.
Butler Mobility Products, located in Lewisberry, Pennsylvania, was able to deliver on that funding requirement. Located in the heart of Pennsylvania's manufacturing area, the Lewisberry factory custom designs the inclined platform wheelchair lifts, on-site.
For the project, Butler Mobility was able to design seven complete lifts, to fit the stairs in each of the new townhouses. By meeting the project deadlines and delivering a quality, American-made product, Butler Mobility was able to help wheelchair-bound residents live independently and access the freedom they needed to move from floor-to-floor.
For more information, visit http://www.butlermobility.com
Media Contact
Peter O'Conor
717-938-4253
p.oconor(at)butlermobility(dot)com