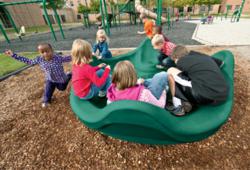 We need to look beyond ensuring access to ensuring inclusion.
Delano, Minn. (Vocus/PRWEB) February 03, 2011
Landscape Structures Inc., a Delano, Minn.-based commercial playground equipment manufacturer, has introduced new inclusive playground products as part of its Inclusive Play playground solution. The company is committed to providing A Higher Level of Inclusive Play™, which means they're creating playground equipment and play environments where all children and their families can play together regardless of their abilities.
"Our industry has come a long way in providing access to playgrounds and to the play events on them," said Steve King, cofounder and chairman of Landscape Structures and a Fellow of the American Society of Landscape Architects. "But experience tells us this isn't enough. Collectively, we need to look beyond ensuring access to ensuring inclusion."
Nearly 14 percent of children have one or more special need ranging from autism to cerebral palsy. While it has long been recognized that children with differing abilities often have difficulty playing and socializing, little attention has been devoted to addressing this issue on the playground. To do so, Landscape Structures provides play experiences that meet all children's needs in the same place in a variety of ways.
Landscape Structures has added to its suite of Inclusive Play products that will further welcome children of all abilities to the playground. The OmniSpin™ Spinner provides valuable vestibular stimulation and encourages children to interact with each other. This innovative spinner has easy access for those using mobility devices, and offers back support for those with limited upper-body mobility.
Most kids enjoy the back-and-forth motion they get from swings. The new Oodle™ Swing creates that vestibular stimulation while encouraging interactive play for many children. In addition, it provides an easy transfer point for children using a wheelchair or walker.
Five sensory play panels that were launched with the Sensory Play Center™ last January are now available on the PlayBooster® and PlayShaper® playstructures. These interactive panels—Fun Mirror Panel™, Kaleidospin Panel™, Marble Panel™, Optigear Panel™ and Xylofun Panel™—help children develop fine motor and social skills as well as provide sensory, visual and auditory stimulation. Additionally, these five panels can be included in Weevos™ playsystem designs along with the Alphamaze and Labyrinth Panel™, Bongo Panel™ and the Imagination Table™.
Landscape Structures has also introduced a new Molded Bucket Seat swing design. This new design hugs children's bodies more closely and includes a yoke harness to provide greater stability for those with limited upper-body mobility. And standard ramps are now available in a Double-Wide configuration. This extra room allows for two wheelchairs to pass or travel together, and gives equal access for all children to play side-by-side.
These new products join the Sensory Play Center, Cozy Dome™, Roller Table™, Sway Fun® glider and many more in the long list of inclusive playground products for community and school playgrounds.
For more information about Landscape Structures' Inclusive Play design solution and its new inclusive playground products, visit playlsi.com/inclusive-play and become a fan of Sensory Play by Landscape Structures Inc. on Facebook.
Since 1971, Landscape Structures Inc. has been the leading commercial playground equipment manufacturer in the world. The employee-owned company is committed to making the world a better place with active children thriving in leading communities year after year, generation after generation. Landscape Structures encourages outdoor play that develops healthy kids and a sustainable world by creating innovative products that are environmentally responsible. The company's mission from day one has been to enhance children's lives by fostering and creating inspiring play experiences while honoring the environment.
# # #