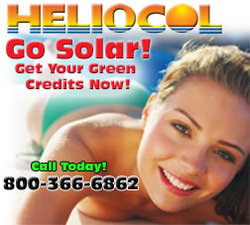 With solar energy, homeowners can heat their home hot water, create their own electricity and even enjoy a warm swimming pool. One thing they will not get from solar is a rising utility bill or rate increase for using this free, friendly and clean energy source
Phoenix, AZ (PRWEB) March 20, 2008
Green Energy Solar Inc has great news for Arizona income tax payers. There is still time to claim one of the remaining tax credits of up to $2000 for upgrading your home to solar hot water.
"What began quietly in January of 2006 has quickly become a boon to Arizona homeowners looking to save significantly on their utilities, reduce foreign energy dependence and even improve home value. But if Arizona homeowners wait much longer they will miss out completely because the federal solar tax credit expires permanently December 31st 2008," says Kelly Dancer, CEO of Green Energy Solar Inc (Arizona's leading solar company).
In addition to the Federal Solar Income Tax Credit of up to $2000, Arizona homeowners can also qualify for a State of Arizona Solar Tax Credit of up to $1000. Plus, many of the states largest utility companies are even offering rebates of up to $1450 making now one of the most economically sound opportunities to have a solar system installed on your home.
"With solar energy, homeowners can heat their home hot water, create their own electricity and even enjoy a warm swimming pool. One thing they will not get from solar is a rising utility bill or rate increase for using this free, friendly and clean energy source," says Dancer.
Arizona swimming pool owners can also enjoy solar by doubling their swimming season with solar pool heating. Warm comfortable swimming at 80-90 degrees is common for solar heated swimming pools in Arizona up to 9 or 10 months per year. Solar Pool Heating is ranked as the #1 choice for heating swimming pools in Arizona. Not only are solar pool heating systems very durable and efficient, they are also manufactured in several colors to blend in w/ community roofs, making them very friendly for residents who reside in communities with associations. Solar pool heating systems can qualify for the full $1000 State of Arizona Solar Income Tax Credit.
A special consumer tax credit info line has been set up at 1-800-366-6862.
"Don't miss the opportunity to take advantage of these excellent government incentives while using solar to help reduce foreign energy dependence and improve our environment," says Dancer.
About Green Energy Solar, Inc.
Special thanks to Kelly Dancer of Green Energy Solar, Inc. - a leading solar hot water and solar pool heating company. For a no-cost estimate on any of Green Energy Solar Inc's products, visit them online at http://www.sunwaterfun.com/ or call today.
Phoenix Solar 602-454-7000
Tucson Solar 520-770-9902
State wide at 800-366-6862
###