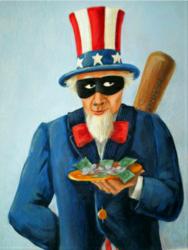 Individual Federal Income Taxes Are, and Must Be, Completely Voluntary, Both In Law And In Fact.
Salt Lake City, Utah (PRWEB) April 04, 2012
John W. Benson recently released the results of his 35 years of research into the nature and history of income tax laws, as well as the practices and procedures of the Internal Revenue Service.
Millions of Americans faithfully pay individual income taxes each year without any questions and without knowing what law, if any, makes them liable to the taxes they so freely pay. Millions of others – over 30 million, by some estimates – fail or simply refuse to do so.
John W. Benson's new eBook Taxation by Misrepresentation, the Truth about Income Taxes in Plain English, lays out the definitive case the US income tax is an absolutely "voluntary" tax, which cannot be made compulsory by virtue of its unconstitutional nature, and which requires a great deal of fraud and outright intimidation on the part of the IRS to convince people what can only be voluntary, is instead a lawful requirement.
Unlike the tax code itself, John W. Benson's new eBook is far from being convoluted. It is an extremely logical, sound and extraordinarily well-researched. It is rapidly becoming one of the best resources for understanding the true constitutional aspects of our income tax system, as well as the origin of the laws and processes involved in compelling citizens to comply with it.
John has researched federal income-tax laws for some 35 years. In all that time, he has not found any law that clearly and unequivocally makes the average individual liable for federal income taxes on income received from their occupations of right. His associate, Glenn Ambort, has been unable to find such a law in his 20 years of research.
John and Glenn have read thousands of tax cases, from Tax Court to the Supreme Court. According to John Benson, not a single case provides a simple, straight-forward explanation of the law or tax regulation that makes us liable to the individual federal income taxes paid by most Americans year after year.
They have asked judges, attorneys, tax accountants, members of Congress, and officials of the Internal Revenue Service (IRS) what makes them liable, yet have universally been met with blank stares. These officials simply have no answer.
Little did John know his search would require over 35 years, including a six-year federal prison sentence, three years probation, the loss of his reputation and everything he possessed, except his personal integrity and determination to bring this knowledge to the American people. It has required all this (and more) in order to come to what John believes to be a complete and accurate understanding of the federal income tax laws and then share his understanding with his readers, in a manner that is easy to grasp.
The author does not harbor bitterness for being imprisoned for his beliefs. He insists, "The material found in my newest eBook will convince you, beyond any reasonable doubt, that individual federal income taxes are, and must be, completely voluntary both in law and in fact. The tax Code itself is written to make them voluntary, and there are lawful procedures available to reduce your individual federal income taxes to zero."
John's advice is, "File the usual tax forms and pay the customary income taxes each year. Share what you learn in his eBook with others, especially with those whom you know will never enter into the fight for our rights and freedoms. The tax battle, today, is a political battle, not a legal battle."
John believes that, "Only when masses of the People come to understand the true nature and character of the individual federal income-tax system will they be willing and able to change the present fraudulent tax system into an honest one.'
The author believes that, "In time, some are bound to end up on the juries that will determine the fate of the warriors who are willing to stand up and defend our freedoms. Those citizens who now seem timid or reluctant may, in the end, be in a position to set free those of us who have been willing to draw a line in the sand and found ourselves sitting at the defendant's table in a tax prosecution."
It is John's view that, "Aside from the draconian penalties which have been used to enforce it, a major reason for the perpetuation of the current tax system is the innocent ignorance of most people about its fraudulent nature. Perhaps it was the great Mahatma Gandhi who said that the job of a civil resister is to bring to light the evil or injustice that is committed in the dark. So it is with our tax system."
John's perspective is that, "Nothing will ever change for the better without the support and political will of at least a sizable minority of the people. Support for positive change will come when such a minority has a good grasp of what the true nature of our income tax system is and how the law has been twisted to suit a particular political agenda that neither values freedom nor adheres to the Constitution."
John offers his eBook FREE to all members of Congress, Federal and State Judiciary, all IRS employees and Members of the Press who send an official government or Press email address to him at: JWBenson09@gmail.com
For more information about John W. Benson and his research, visit: http://bit.ly/xLUijo or call Glenn Ambort (801) 654-8853.