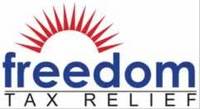 It is extremely important to respond to the Internal Revenue Service and take action to resolve tax debt. Otherwise, serious legal and financial problems will result.
San Mateo, Calif. (Vocus) April 13, 2010
The U.S. income tax filing deadline of April 15 is just days away, and in the wake of the recession, many taxpayers may complete their forms only to realize they have income tax debt they cannot pay. Knowing what to do, and that options do exist, is critical for those individuals, says Jeff Staley, managing partner of Freedom Tax Relief LLC.
According to the Internal Revenue Service, in 2008 (the most recent data available), U.S. residents filed more than 131 million federal income tax returns. In 2009, 9.7 million accounts were delinquent -- 7 percent of all accounts. These taxpayers owed more than $103 billion in taxes, penalties and interest. The number of levies (a key enforcement tool in which the IRS takes possession of assets to collect on unpaid taxes) rose to nearly 3.5 million during 2009, a 32 percent increase over the number in 2008.
Add to that recent news reports revealing that federal employees owe almost $1 billion in back taxes, according to a Utah Congressman who wants to force those workers to pay up.
"Depending on how much they owe, taxpayers have several different options," Staley says. "It is extremely important to respond to the Internal Revenue Service and take action to resolve tax debt. Otherwise, serious legal and financial problems will result."
Staley suggests taxpayers consider the following options for tax bills that they cannot pay:
1. File a return. Not filing a tax return is a serious red light for the IRS. Filing late incurs penalties of 5 percent of the tax due on a return per month, to a maximum of 25 percent. In addition, late payments accrue monthly interest at 0.5 percent of the unpaid amount each month, plus interest on the balance owed. Filing one year late could add up to 38 percent to the original amount owed. Even if you cannot pay all the taxes due, pay what you can when you file the return or extension.
2. Contact the IRS directly. Taxpayers who absolutely cannot pay taxes should contact the IRS. Agency policies may offer reduced penalties for taxpayers who contact the IRS or pay a late bill voluntarily. If a person has tax debt because of extenuating circumstances such as a death in the family, serious illness, financial records lost in a natural disaster, or reason the IRS deems "reasonable cause," the IRS may waive penalties after being contacted by the taxpayer.
3. Apply for an installment agreement. Taxpayers who owe up to $25,000 can pay their balance in monthly installments. Along with the tax return, attach Form 9465 (Installment Agreement Request), or complete the Online Payment Agreement application at http://www.irs.gov. Setting up the agreement costs $105, or $52 if the taxpayer signs up for direct withdrawal from a bank account. At the time of application, state the amount of the proposed monthly payment and a proposed monthly payment date. The agreement will accrue interest plus a late payment penalty on the unpaid taxes for each month or part of a month after the due date that the tax is not paid.
4. Consult a specialist. Taxpayers who owe more than $10,000 will benefit from professional help. Tax relief specialists can negotiate directly with the IRS on the consumer's behalf to help them obtain a settlement. These advisors can help obtain different types of IRS settlements, depending on the severity of an individual's situation. Two of the most common settlement options are the offer in com¬promise, which reduces the principal amount owed to the IRS, and the installment agreement, which is a payment plan for the amount due, and often includes a reduction in penal¬ties.
5. Be cautious about bankruptcy. Historically, consumers in severe tax debt might file for Chapter 7 bankruptcy protection or try to wait for the 10-year statute of limitations on tax liability to expire. However, the 2005 bankruptcy reform law significantly limited the ability to obtain Chapter 7 filings. The bill's new "means test" requires many consumers to file Chapter 13 bankruptcy, which establishes a repayment plan rather than wiping out all debt. If tax debt is the primary problem, taxpayers might be better off consulting a tax relief specialist for help in negotiating with the IRS.
6. Monitor estimated tax payments due. People who are self-employed or for other reasons must pay estimated income tax should double check estimated earnings and taxes due. It is important to pay enough tax each quarter to avoid penalties.
"An experienced tax resolution agent can provide strong relief for Americans with tax debt," Staley said. "You cannot hide from the IRS, so no matter how much tax debt you have, the best route is to face the issue head-on. Resolving your tax debt in the most favorable way will help you achieve peace of mind in tax season and throughout the year."
About Freedom Tax Relief (http://www.freedomtaxrelief.com)
Based in San Mateo, Calif., Freedom Tax Relief (FTR) provides consumer tax resolution services, helping financially distressed individuals resolve IRS problems. Working directly with the IRS on behalf of clients, FTR boasts a client savings rate of more than 85 percent on IRS settlement cases. The company, which has served more than 7,000 consumers since 2002, is a wholly owned subsidiary of Freedom Financial Network LLC (FFN).
###