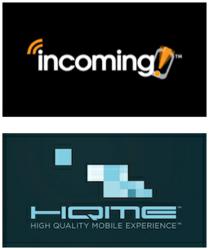 Incoming Media is fixing mobile video, using mathematics.
Mobile World Congress, Barcelona (PRWEB) February 22, 2012
Incoming Media is today announcing a new higher quality mobile video experience that works better for both subscribers and carriers.
Mobile video is currently broken. Streaming solutions do not work, with subscribers abandoning up to 40% of mobile videos in frustration¹. Streaming also does not work for network operators, who are struggling to license enough spectrum and deploy enough infrastructure to meet the growing demand for mobile video, which is forecast to account for 70% of total mobile data by 2016².
"We are fixing mobile video, using mathematics," explains Dr. Max Ott, Co-founder and Chief Scientist of Incoming Media. "We are using advanced patent pending machine learning techniques, to learn and predict the video content you love to watch, and when and where you want to watch it. Our technology will also predict network availability and choose the best opportunity to download mobile video data."
Incoming delivers video to mobile phones, whenever and wherever the phone is predicted to enjoy good wi-fi or cellular network connectivity, enabling a new higher quality mobile video experience for subscribers; the best content in high definition, instant playback, and guaranteed zero buffering.
Incoming Media is using the IEEE P2200 proposed standard that is supported by the High Quality Mobile Experience™ (HQME™) initiative, a consortium of mobile and content industry leaders including SanDisk Corporation.
"As demand for mobile video continues to explode, it will be increasingly important for video distributors to leverage smart caching techniques and HQME to ensure a high quality consumer experience," said Robert Khedouri, Vice President SanDisk. "Incoming Media's predictive analytics technology helps demonstrate the kind of improvement video distributors on all mobile networks should be seeking over the coming years."
Incoming Media will be showing its new mobile video technology at Mobile World Congress in Barcelona, 27 February to 1 March 2012, at Hall 8 Booth B91.
About Incoming Media
Incoming Media is fixing mobile video, using mathematics. Join the private beta at http://incoming-media.com or visit us at Mobile World Congress, Hall 8 Booth B91.
¹ ByteMobile Mobile Analytics Report, October 2011
² Cisco Visual Networking Index, February 2012
Contact
Bob Hitching
Co-founder, Chief Product & Technology Officer
Incoming Media, Inc.
+1-650-289-8577
bob(at)incoming-media(dot)com
###