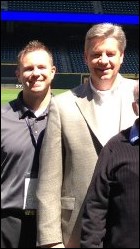 inContact is doing for contact centers what SalesForce.com did for CRM.
Sandy, UT (PRWEB) May 21, 2013
Telarus Inc., the premier telecom master agent and patent holder of real-time carrier quotes, today announced that it has entered into a new agreement with inContact (Nasdaq: SAAS), the leading cloud contact center solution provider. The new agreement expands the relationship between Telarus and inContact to reflect the changes and growth that both companies have experienced since the date of their original agreement in 2005.
"We are excited that inContact has recognized the potential for growth that our organization represents," commented Adam Edwards, President of Telarus. "inContact is the leading provider of cloud contact center software and we are excited to continue our engagement with them."
inContact is the recognized leader and pioneer in cloud contact center software being used by over 85,000 agents worldwide. The company's services and solutions enable call centers to operate more efficiently, optimize the cost and quality of every customer interaction, create new pathways to profit and ensure ongoing customer-centric business improvement and growth.
"During the past few years, both of our companies have undergone dramatic change and growth," added Jon Heaps, VP of Sales for inContact. "This new agreement reflects the desire of both sides to chart a new future together. We have a stronger product, a stronger sales support structure, and a stronger channel than we did just a few years ago. Our new agreement affirms our commitment to Telarus and its partners, serving as the platform from which we will re-launch our relationship. We look forward to mutual success and to interacting with their partners on a deeper level to help them sell inContact's award-winning cloud contact center solutions."
"The level of support that our partners receive from inContact's technical experts is second to none," said Lanny Gray, VP of Business Development for Telarus. "Their commitment to helping our partners engineer and present contact center solutions to end-users is helping us win a lot more business. We are thrilled to be closely aligned with them and look forward to selling more of inContact's solutions."
About inContact
inContact (NASDAQ: SAAS) is the cloud contact center software leader, helping organizations around the globe create high quality customer experiences. inContact is 100% focused on the cloud and is the only provider to combine cloud software with an enterprise-class telecommunications network for a complete customer interaction solution. Winner of Frost & Sullivan 2012 North American Cloud Company of the Year in Cloud Contact Center Solutions, inContact has deployed over 1,300 cloud contact center instances. To learn more, visit inContact.com.
About Telarus
Telarus, Inc., a value added distributor that holds contracts with the world's leading commercial telecommunication carriers, makes it easier and more profitable for solution providers, VARs, and MSPs to sell and source voice, data, and cloud solutions. Our patented GeoQuote platform combines real-time carrier pricing with advanced research features and branded proposals. Telarus' experienced Sales staff is strategically focused on enterprise WAN and high-capacity Ethernet bandwidth solutions, mpls network providers, international mpls, ethernet over copper service providers, making it easier to find the best offer, every time. For its part, Telarus has been named the top Master Agent by the members of the Telecom Association in each of the past three years, the first and only company in the carrier channel to accomplish this feat. Whether you are a top producer or a voice-and-data expert just starting out on your own, there is a place for you in the Telarus community. For more information on the Telarus partner program, please visit telarus.com or call the new partner hotline at 877-346-3232.