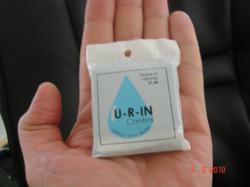 When there is no where to go, go where you are with Go Guy the pocket urinal
Pawtucket, Rhode Island (PRWEB) September 29, 2011
Having to urinate, relieve one's self, or plain old peeing is not a popular activity either, and in some cases it can be a downright problem. From incontinence - to lack of proper facilities - to how to dispose of urine can create problems and embarrassment. Well all of that is about to change as U-R-Control has developed "GO GUY" the pocket urinal for men.
Known Facts: The National Institute of Diabetes and Digestive and Kidney Diseases reports 16.3 billion dollars was spent in direct expenditure for urinary incontinence in the US in 2005. Disposal of Road Side pee bottles and other debris, costs California taxpayers upward of $50 million a year.
Commercial truckers have been targeted near the Oregon-Idaho border after litter crews have reported finding large numbers of plastic bottles filled with urine. The main concern is along a 25 mile stretch of interstate 84, and within a 3 mile stretch known as 'Three Mile Hill' over 100 bottles were found.
The average adult bladder can hold 2 cups of urine for 2 to 5 hours.The Pocket Urinal, a unique mobile male relief system that solves the problem of having to go for men all over the world. Ergonomically designed with a quick acting polymer absorber that insures no spills while handling. It's easy to dispose of , while also being environmentally friendly as GO-Guy is bio-degradable. A urologist by the name of Dr. Anthony Catanese spoke about Go Guy.
"Go-Guy is an amazing product which I encourage many of my patients to purchase and use. It is inexpensive, easy to use and puts my patients in control so they don't have to worry about incontinence. It is something that I have been very excited about in my practice. In fact, for the last year I have been handing them out as samples to all my patients. There is not questions that Go Guy is a major asset when it comes to males being in control of their urinating needs."
Well beyond the health benefits of Go Guy there is the convenience of being in control, and not having to worry, be embarrassed, or put yourself at risk of losing control and suffering the consequences. Not only does the product help to manage one of man's most natural occurrences, but it also helps to bring it back to nature.
Everyday people have been putting go guy to the test with some very strong results. Truckers, sportsman, Mothers with kids, old people, etc. all have a need for GO GUY the pocket urinal. For additional information go to askgoguy.com.
###