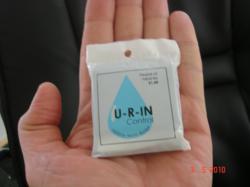 "When theres no where to go , go where you are
Pawtucket, RI (PRWEB) May 11, 2011
Announcing tremendous results from U-R-IN Control, a new product that was put out last year, Dr. Anthony Catanese, a successful New Jersey urologist, has been handing the U-R-IN Control bags out to his patients. Males never know when they will get the urge to go. From a boy to an elderly man the need to have a readily available urinal can be life saving from an embarrassment point of view.
Everyone has seen a guy standing on the side of the road with his back to traffic in a desperate effort to relieve himself, peeing right there in public. Or how about all the bottles lying by the side of the road filled with a strange unknown yellow liquid? For years men have harbored a deep secret, they'll pee in just about anything when they're stuck in their car. Men will use a cup, a bottle or just hop out and pee on the road. A Rhode Island inventor has come up with a solution to this age old problem.
Where does one go when they are stuck in a car? Well men can put down that bottle and forget about how much that coffee cup will hold. Now there's U-R-IN-Control. After years of dealing with the embarrassment of constantly running to a restroom or desperately searching for a cup or bottle to pee in and not making it, someone came up with the ingenious idea of U-R-IN Control. The concept is simple. Men need something small enough to keep with them at all times, small enough to fit in their pocket and in an instant it could be used to relieve them. The solution is a small, compact, watertight leak resistant bag that is filled with polymer crystals that gelatinize the urine upon contact. Each U-R-IN Control bag comes in discrete black so no one knows what's inside they also comes with a wet wipe for sanitary clean up.
The invention relates to a male urine collection bag that is preferably disposable and provided with an interlocking liquid-tight seal at the top. The collection bag is lined with a powdered polymer crystal inside. When the urine liquid comes in contact with this powdered polymer crystal it tends to solidify and also neutralizes odors. A man can urinate discreetly into the collection bag in the privacy of his vehicle. Lastly, the male simply seals the collection bag enabling the bag to be readily disposed of at the next convenient location.
People who have used U-R-IN Control include pilots, truck drivers, salesman, seniors with urinary issues, and mothers with sons.
"So when there is nowhere to go, go where you are with Go Guy the pocket urinal."
U-R-IN Control creates new product lines for the health and fitness of individuals.
###