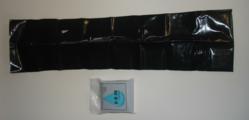 When there is no where to go, go where you are.
Pawtucket, RI (PRWEB) May 25, 2011
Urinary incontinence is a common and distressing problem which does have an impact on a person's quality of life. It is also known that this issue in men is under reported to the medical professionals because of the feeling of shame and humiliation. This does lead to isolation and social withdrawal. Millions of men try to self-manage the problem because they cannot afford or want to seek medical help. Individuals who have incontinence issues may need absorbent pads or urinary catheters for extreme problems but U-R-IN Control bags offer an alternative to those who have temporary lapses with control.
Both men and women can have incontinent issues from neurologic injury, urinary tract defects, stokes or multiple sclerosis and physical problems due to aging. Incontinence in men occurs because of problems with muscles that help hold or release the urine. During urination, muscles in the bladder wall contract, forcing the urine out of the bladder. Incontinence occurs if the bladder muscles suddenly contract or muscles surrounding the urethra suddenly relax. With the U-R-IN Control bag close at hand a man is prepared for the untimely event. While urinary incontinence affects older men more often than younger men, the onset of incontinence can start at any age. U-R-IN Control bags are made for men of all ages because of this fact.
The U-R-IN Control pocket urinal(pee bag) helps a man lead a normal life full of activities, knowing that if the urgency arises he can relieve himself at a moment's notice. The U-R-IN Control bag can be carried in his pocket, wallet, and glove compartment. The pee bag is specially designed with 700ml capacity for worry free relief. It has a water tight top seal, space age polymer crystals for quick absorption to eliminate spills and odors, and can be used for emergency bladder relief when a restroom is not around.
There are many temporary issues which include slow physical development, anxiety, genetics, structural issues, stress, infections, and just a plan overactive bladder. Most urinary incontinence will fade away over time naturally. The reason for changes after short periods of time will be things such as bladder capacity increase, natural body alarms become activated, production of ADH becomes normal, overactive bladder settles down, and stressful periods or events pass. During these times of need U-R-IN Control bags can help with daytime techniques such as urinating on a schedule, such as every few hours (which is called time voiding). Knowing that caffeine or other foods or drink may contribute to frequent urination sometimes changes a man's approach to his daily routine. With U-R-IN Control available to relieve oneself at any time gives him piece of mind to continue a normal daily life. Relaxing a man's muscles and taking his time helps for healthy urination.
People who have used U-R-IN Control include pilots, truck drivers, salesman, seniors with urinary issues, hospitals, nursing homes, and mothers with sons. For more information visit http://www.askgoguy.com.
"So when there is nowhere to go, go where you are with Go Guy the pocket urinal."
U-R-IN Control creates new product lines for the health and fitness of individuals.
###