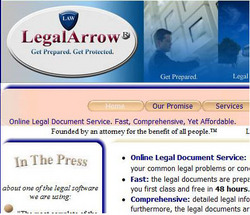 Orange, CA (PRWEB) March 18, 2008
The U.S. legal system and the law has to become accessible and affordable for all Americans. LegalArrow.com, which was just launched, helps convert this unanimous proposition into practice.
Attorney Marin Cionca created LegalArrow.com - an online legal document service, to help in the effort of making the legal system more accessible and affordable for all people.
"I am a great believer in the Internet, and the great opportunity it offers for low cost communication and publishing. I felt that the legal system did not take full advantage of the present information technology progress, to make itself more accessible to all Americans. That's why I created LegalArrow.com, which provides free legal information, and low cost legal document services to the public," said Cionca.
Every parent needs a will and a living will, yet research shows that a large majority of parents do not have any. Often, the reasons are the scarcity of easily accessible legal information, and the high cost associated with hiring an attorney to draft the needed legal document. LegalArrow.com offers an alternative: free legal information to help understand the main elements of, for example, a living will, and the low cost option of having a legal document professional prepare that living will.
"Before I became an attorney I was a college instructor for over six years. I feel that I have to continue to give back as an attorney, by 'teaching' the law now. LegalArrow.com gives me the platform to do so," said Cionca.
Currently, LegalArrow.com offers several legal documents and procedures, from wills and trusts, to incorporation and limited liability company formation services. More legal documents and procedures are in the works and will be added online shortly.
The process of ordering legal documents at LegalArrow.com is simple: you answer a set of document-specific questions which are written in plain English, and are supported by the step-by-step general legal information available to guide you. Next, the legal document professionals at LegalArrow.com prepare and mail the documents to you, or they can even file them for you.
About LegalArrow.com:
While LegalArrow.com or its owner Legal Arrow, Inc. is not a law firm, and does not offer legal advice, it helps people have access to free general legal information, and address their common legal matters or concerns in an affordable way.
Contact:
Marin Cionca, Founder/CEO
Legal Arrow, Inc.
(714) 938 - 3817
LegalArrow.com
###