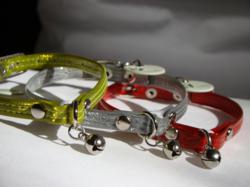 There have been no signs of slowdown at the Vedante. Sales have been steadily increasing and took a substantial jump in 2011.
Boulder, Colorado (PRWEB) January 31, 2012
There have been no signs of slowdown at the Vedante Corp. Sales have been steadily increasing and took a substantial jump in 2011.
According to Vedante™ CEO, Barbara Kantor, the Boulder Colorado based company is reporting a healthy increase in 2011 sales numbers. Vedante Corp's pet product sales increased by 52% in 2011 and 36% for sales of all products as compared to 2010 year end totals.
Kantor attributes the steady and substantial increases in sales to having one of the highest levels of reflectivity for nighttime safety while still being fashionable. Vedante's trendy POP BANDS™ and pet products are available in a wide range of fashion based colors and many are reflective up to 1500 feet.
Vedante's best-selling pet product is their Super Reflective Cat Collar. Vedante's dog and cat collars are designed using a proprietary patent-pending technology that provides a level of reflectivity and durability that well exceeds most competitor's reflective dog and cat collars and leashes. The vast majority of products only reflect from 200-600 feet. Vedante's pet collars and leashes reflect up to 1500 feet (500-700 cpl). Because they reflect rather than generate light, the collars require no batteries that could get weak or fail. In addition, your cats and dogs do not look like a flashing traffic light. They are visible only when needed.
The cat collars have received an abundance of 5 star reviews from Amazon customers. Amazon customers are saying:

* * * 5.0 out of 5 stars - "Great Collar": "This is a nice reflective collar without being too bright. The color is similar to the type of reflective material that people wear at night when they're walking/biking. I like the way that the breakaway feature works; the two parts are connected by an elastic band (instead of a breakaway clip that you use to connect the collar around the cat's neck). I think that feature makes it more durable than the other breakaway collars."
* * * 5.0 out of 5 stars - "My kitty looks like royalty!": "I was a little leery about how this collar would look, but I was pleasantly surprised when I opened the package. It is beautiful and makes my kitty look like the little prince that he thinks he is. Love the collar--highly recommend it"
Barbara Kantor has developed her line of reflective products with both safety and fashion in mind. "We have a real opportunity to increase nighttime safety for both people and pets," said Kantor. "Vedante's mission is to promote nighttime visibility through highly reflective and durable products that are also fashionable and elegant."
About Vedante:
CEO Barbara Kantor founded Vedante in 2006. Barbara's inspiration came during an evening walk when she witnessed a pedestrian being struck by a car. The pedestrian, in a cross walk, was unaware of the driver's inability to see her. Deeply impacted by what she saw, Barbara delved into research on safety and visibility and then studied reflective products that were currently on the market. Barbara's research and her 25 year background in fashion design led to her development of Vedante reflective safety products that are attractive and easy to use.
Vedante is a company committed to saving lives by increasing nighttime visibility and decreasing accidents through education, awareness campaigns, and "fashion that reflects well on you." To watch a short video about Vedante's Story click here: http://www.youtube.com/watch?v=UQE8A9D1_zg&feature=player_embedded
Vedante has consistently ranked among the top 10 best sellers in the United States at Amazon.com in its respective categories for super-reflective POP BANDS, Cat Collars, Dog Collars and Dog Leashes. Vedante's Super Reflective products can be purchased online at Vedante's e-commerce website, Amazon.com in the USA, Amazon UK and select retailers (http://vedante.com/shop.html).
For safety tips, deal alerts and fun stories follow Vedante on:
Facebook: http://www.facebook.com/Vedante
Vedante Pet Products on Facebook: http://www.facebook.com/Vedante.Pet
Twitter: http://twitter.com/VedanteFDN
###