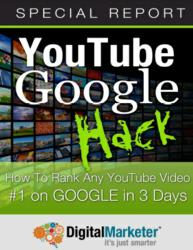 YouTube feeds millions of other websites their video, so businesses can make an instant effect on their web presence.
Austin, TX (PRWEB) July 01, 2012
To increase YouTube views, videos need to have an influential nature, no matter how small the outcome. The most recent article from DigitalMarketer.com said encouraging a sale, informing to peak interest, or influencing a way of thinking can all be done in a YouTube video. The trick is to know how to pull it off.
Digital Marketer will help online businesses learn the tricks to YouTube with their Special Report "YouTube Google Hack: How to Rank a YouTube Video Number One on Google in Three Days." The article said it helps marketers understand what types of products and services sell best on YouTube, and how a high search ranking can equal instant web authority.
Online businesses are catching on to the power of YouTube, which holds a huge amount of weight in the Internet's shift towards video content, said the article. The "YouTube Google Hack" Special Report says that half of all web traffic after 5:00 p.m. consists of video-watching.
The article said little production value and even less experience doesn't mean creating a successful YouTube video is impossible. Businesses can receive free traffic to their website through YouTube, cashing in on thousands of high quality clicks. The Special Report shows how to get YouTube traffic without having to invest in alternative methods.
YouTube feeds millions of other websites their video, so businesses can make an instant effect on their web presence. The article said they'll be considered experts when their videos show up first in Google searches, and especially so when they can answer company questions with "Check out my video on YouTube!"
"YouTube Google Hack" provides information on describing and labeling a video to attract the right viewers. And the article said that since all the content is digital and free, the profit margin is 100% because they aren't paying for traffic or affiliate commissions.
Digital Marketer would be remiss if they didn't add some outside sources that can further boost SEO rankings for inexpensive prices. Resources like those are included in "YouTube Google Hack" as well.
Digital Marketer releases informational and educational materials to help businesses and entrepreneurs gain insight and information on the trends, data, and strategies that can take them to the top of their industry. Through their RAW Training courses, strategic plans, blogs, newsletters, site reviews, and Special Reports, Digital Marketer supercharges every single marketing campaign it touches. For more information, visit DigitalMarketer.com.
Most importantly, the online article said businesses need to understand how easy it is to start a YouTube account, create videos without any fancy equipment, and upload them to the biggest video sharing site in the world. As long as they know how to increase YouTube views, having a successful online business won't seem so daunting.