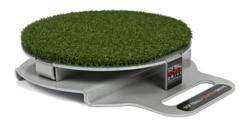 Now we can help fight breast cancer with this same core value through the great game of softball
Boston, MA (PRWEB) June 01, 2011
Softball Power Drive today is pleased to announce a contribution for the "Pitch for the Cure" Softball Tournament held in Springdale Arkansas. "We are proud to team up the Springdale Chicks Softball Charities to help raise money for the Susan Komen for the Cure said, John Miller, president, of Pitchers Power Drive (TM).
Since Susan Komen creates awareness through the use of the Passionately Pink color, we decided to produce a Special Edition Pink Softball Power Drive to help raise funds for this great cause. There will be a $10 donation for each Softball Power Drive sold at the event to help fight breast cancer and help end this disease forever. The special edition metal model will be solid pink instead of the normal silver color and the turf model will be pink with black turf instead of silver with green turf.
Miller said "to help raise additional funds the new Hitters Power Drive will be included in this fund raising event". There also will be a $10 donation for each Hitters Power Drive sold to the Susan Komen for the Cure. Miller added "with both training aids now available they will help raise as much money as possible. Since all players are hitters on each team this will help raise the dollar contribution to fight breast cancer.
The 6th Annual Pitch for the Cure is presented by Northwest Arkansas Fastpitch Softball Association dba Springdale Chicks, in special partnership with Susan G. Komen for the Cure Ozark Affiliate. In its 6th year they have raised over $100,000 for Susan Komen for the Cure. "Everyone in life has been touched by this horrible disease through a family member or friend", Miller said. "Having the opportunity to help raise funds by creating awareness through producing a special edition pink model was an idea discussed only a few weeks ago creating a short time to implement. "Helping make this possible was the product being made in the USA" Miller added. A meeting with the fabricator in Brockton MA and powder coating facility in Springfield MA got the wheels turning fast" Miller said "A lot of great American workers put it into high gear to assure the fund raising could be done. The Pink Edition is scheduled to make it just in time for the event" Miller said. Everyone was so enthused to have this Pink Special Edition model and to contribute funds to Susan Koman for the Cure.
Miller said "to help the players with travel there will be free shipping." The Softball Power Drive weighs 15 lbs. and the Hitters Power Drive weighs 19 lbs. due to being made from ¼ steel. "As a past player myself, I know players and parents come to tournaments packed with a lot of stuff, so to make it easier there will be no charge for shipping to their homes from the Winning Pitchers Academy in Boston." This shipping contribution to the player will assist in raising more funds to fight breast cancer.
The Softball Power Drive was introduced this past December. The Professional / Collegiate model, is both a pitching and hitting training aid designed to help softball players achieve maximum power and velocity from using their stronger lower body muscles. "We are happy to have a softball training aid to help softball players," said Miller, There are already over 60 colleges training with the training aid. "It has the same auditory click as the Pitchers Power Drive for instant feedback to let the player know the timing of their power drive. This multisensory learning created by the auditory click and kinetic feel has provided great success with the Pitchers Power Drive for professional, collegiate and youth baseball players. It is being used in hundreds of high schools and baseball academy's, over 200 collegiate programs, twelve professional teams and many pro pitchers in just 26 months.
John Miller said that, "the essence of the Softball Power Drive is the company's core value as a training company... one who cares deeply about helping players achieve the highest individual performance level possible. The Softball Power Drive captures this essence." Miller added, "Now we can also help fight breast cancer with this same core value through the great game of softball."
More information about Softball Power Drive visit Softball Power Drive Pitchers Power Drive is based in Holliston, Massachusetts. They are the developer of the US patented Pitchers Power Drive Professional / Collegiate model, the Pitchers Power Drive Youth model, Softball Power Drive and Hitters Power Drive. The design of the Power Drive training aids come from their extensive experience working with and training pitchers and hitters at the Winning Pitchers Academy. At the acaademy pitchers for 6 years have learned how to increase their speed and learn proper baseball pitching mechanics with the Pitchers Power Drive. Pitchers Power Drive is a trademark of Pitchers Power Drive. To learn more about Pitchers Power Drive visit the Pitchers Power Drive website at http://www.pitcherspowerdrive.com. You can also follow Pitchers Power Drive at http://www.facebook.com/pages/Pitchers-Power-Drive/127620846713 at http://twitter.com/pitching247 at http://www.youtube.com/user/pitcherspowerdrive and at http://pitcherspowerdrive.blogspot.com/.
###