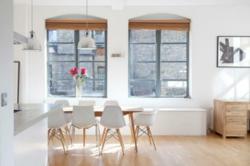 Increation was born out of understanding that there was a gap between imagination and reality.
(PRWEB UK) 21 September 2011
Increation is pleased to announce the addition of their latest bespoke luxury interior to its collection of high end properties in London.
The client had just had a child and the family were moving from the country to the city so wanted to design the perfect home for the whole family to live in. Increation were commissioned to carry out the entire renovation project, including the open plan kitchen design, re-design of the bathroom, a home office renovation and the overall interior décor. The Victorian Conversion offered the perfect space for the creative vision to be realised, within the vibrant Clerkenwell area.
The main inspiration for the kitchen was the client's interest in having concrete incorporated into the design, so the Increation designers worked together to create the kitchen with concrete worktops. The overall design was the embodiment of simplicity with clean lines and the essence of quality at the forefront of the design concept. The result was a stunning cooking zone that was also perfect for socialising, with a real personal touch.
Visual balance was achieved by paying close attention to the shelving units, which were facing the dining area and the wall units in the workshop. The white background also allows the chunky concrete workshop to give character to the space.
Interesting design features of the project include:

Concrete worktops
Hidden home office
White lacquer handless furniture
Blue glass splash backs
Increation was born out of understanding that there was a gap between imagination and reality. It became apparent to Vincent Cullane, Increation's founder and Creative Director, that when someone imagined kitchens or bathrooms, they imagined the complete room; the lights, the bath, the floor, the tiles, the mirrors, the appliances, the table, the chairs… everything that makes up a complete room. However when someone buys a bathroom or a kitchen they had to buy all of these parts separately and hire different people to put them together. Out of this revelation Increation was born. The interior design, the planning, the project management, the building, the plumbing and the cabinet making are done for you – they even set the clocks on your appliances and show you how to use them.
Vincent has created a process in which he works with clients to effectively bring out their inner designer. He did this with a combination of his knowledge and experience and one other essential ingredient. Vincent made it his priority to not only understand their imagination, but also their reality; how they live. Increation like to call this process co-creation and with it the gap between imagination and reality was closed.
To view more of Increation's interior design projects please visit our website at http://www.increation.net
For more information on Increation or to book a free consultation with our design team please contact: Tim Newsome 0207 987 8328 / tnewsome(at)increation(dot)net
###