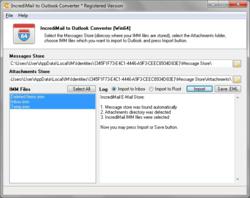 Supports to import emails to any Outlook version and extract IncrediMail emails of any format.
Santa Clara, CA (PRWEB) January 23, 2013
The release of Windows 8 and the future release of Microsoft Office 2013 forced many software developers to make changes in their products to ensure their compatibility and stability in advance. MegaSoft followed the trend and updated its products to add full compatibility with new Microsoft products.
IncrediMail to Outlook Converter is one of the products that are now officially compatible with Windows 8 and Outlook 2013.
IncrediMail to Outlook Converter was specifically created to facilitate the process of transferring IncrediMail messages to Outlook and making it a task that anyone, including non-professionals, could cope with.
The program accurately extracts messages from IncrediMail IMM files and recreates the structure of folders on the user's hard drive in Outlook. Thanks to the program's advanced file analysis and extraction engine, it offers the highest level of accuracy and email conversion efficiency that far exceeds those of its closest competitors.
Apart from directly transferring IncrediMail emails into Outlook, the program is capable of extracting IncrediMail messages into EML files and saving them to the user's hard drive. The third useful feature of the program enables users to save the contents of IncrediMail IMM files to standalone PST storage files that can be saved to a backup folder, shared with colleagues or added to Outlook at any moment. IncrediMail to Outlook Converter can be used both for one-time email migrations and regular email migration tasks.
MegaSoft's IncrediMail to Outlook Converter is an advanced, yet easy to use tool for accurate and easy migration of IncrediMail data to Outlook – now with Windows 8 and Outlook 2013 support.