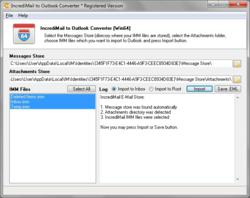 For a limited period, you can purchase IncrediMail to Outlook Converter for only 32.17 USD, saving 13.78 USD!
Toronto, ON (PRWEB) May 22, 2012
IncrediMail to Outlook team recognizes the need for efficient and reliable conversion tools accessible to wide audiences, including non-technical users. Given that IncrediMail has long been a popular alternative to conventional email applications, such as Outlook, Outlook Express or Thunderbird, its user base has grown into a sizable market that the company could not ignore. The latest addition to its comprehensive product line, IncrediMail to Outlook Converter, uses the same principles of work and offers the same level of simplicity to intuitiveness to deliver excellent conversion results in minimal time.
The program features a simple and unambiguous interface that makes the entire procedure a matter of a few clicks and minimizes the chance of a mistake. IncrediMail to Outlook Converter was designed and created for everyone, so it does not require an experienced operator with a degree in computer science to get the job done. The software automatically detects the location of IncrediMail data files, allows the user to mark specific files for conversion and saves messages either to Outlook or to a user-defined folder as a set of EML files. The ability of IncrediMail to Outlook Converter to save messages to the EML format can also be used for transferring them to other email clients and applications, thus broadening the range of possible application of the program.
Apart from one-click migration of IncrediMail messages to Outlook, the program also supports the recovery of messages from corrupted .IMM files and is capable of undeleting messages in IncrediMail. These additional functions work in the same way as the primary one does, so the program is essentially a 3-in-1 solution offered for the price of a single tool.
A trial version of IncrediMail to Outlook Converter is available on the official program site. The software can be purchased for individual and business use and can be downloaded immediately after payment.