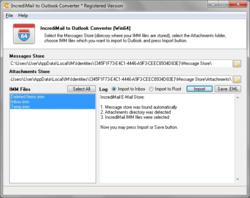 Don't miss 50% Discount Offer at the bottom of that release.
Sacromento, CA (PRWEB) November 19, 2012
MegaSoft announces the release of the new and updated IncrediMail to Outlook Converter, a fast and powerful tool for IMM to PST conversion. The program offers a simple wizard-based interface, an advanced data conversion engine based on proprietary technologies and outstanding ease of use that makes it a perfect choice for non-professional users.
The latest version of IncrediMail to Outlook Converter drastically facilitates the process of IMM to PST conversion and makes IncrediMail to Outlook migration a task that even novices can easily cope with. The software is based on a highly-efficient proprietary engine that yields outstanding performance and accurately converts IncrediMail's IMM messages and attachments to Outlook's native PST format. Apart from other options, the program can save data to a standalone, compacted and optimized PST file that can be backed up, sent over to the necessary recipient or mounted in Outlook later on. This feature of IncrediMail to Outlook Converter may appear especially useful in situations where data should be transferred from a copy of IncrediMail on one system to Outlook installed on another one. When converting messages from IncrediMail's Mail Store to a PST file, the program preserves and accurately recreates the original folder structure.
"When I decided to end my freelance career and join a large company, I realized that I could no longer use my copy of IncrediMail with the messages I still needed" says Chris, a user of IncrediMail to Outlook Converter. " After a little bit of searching, I stumbled upon IncrediMail to Outlook Converter and it did the job flawlessly. I just saved all my messages to a PST file on a flash drive and took it my new workplace. It was a really smooth and painless transition."
MegaSoft is offering a time-limited 50% discount on the just-released version of IncrediMail to Outlook Converter. Use the coupon code PRWEB50U during purchase at MegaSoft site.
Product available at http://www.incredimailoutlook.com/
Download page: http://www.incredimailoutlook.com/download-incredimail-outlook-converter.html