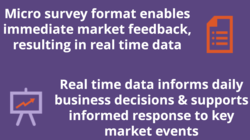 Today's pharmaceutical market is dynamic and rapidly changing, forcing companies to collect market information at an accelerated pace. - Kathleen Poulos
Cambridge, MA (PRWEB) May 17, 2013
InCrowd, real time market research for the healthcare industry, will present their poster "Is Fast Data Dirty Data?" at the upcoming 2013 Pharmaceutical Business Intelligence and Research Group's Annual General Meeting May 19th through the 22nd at the Waldorf-Astoria in Naples, Florida.
Kathleen Poulos, Co-Founder and CMO, and Steven Handy, Director of Marketing, Crowd Engagement, will present the poster on the considerations in the use of real time data to inform daily business decisions.
PBIRG is a not-for-profit industry association dedicated to the advancement of global healthcare marketing research, business intelligence, and strategic planning in theory and practice. This year, the meeting will focus on the theme of Hitting a Moving Target Planning for Success in a Dynamic Global Pharmaceutical Market Place.
"Hitting a moving target requires being fast while at the same time being accurate. Today's pharmaceutical market is dynamic and rapidly changing, forcing companies to collect market information at an accelerated pace." says Kathleen Poulos. "Our poster "Is Fast Data Dirty Data?" explores the use of micro surveys to obtain real time market feedback from health care professionals."
When appropriately collected, fast data can be a complementary and effective research methodology for accessing real time market feedback. As a result, it can help to manage change, inform daily business decisions, understand market events and access the voice of the customer.
For example, when used during a product launch, real time data has enabled companies to compete with establish market competitors, test last minute label scenarios, get feedback during the "dark period" and test message recall and effectiveness, minutes to days after physician detailing.
The InCrowd team will be presenting the poster at the manned Poster Showcase Sessions on Sunday, May 19th from 4:15-5:30PM and on Monday, May 20th from 4:15-5:30PM.
About InCrowd, Inc.
InCrowd (Twitter @InCrowdNow) offers an on-demand platform provides direct and immediate access to Crowds of screened and targeted healthcare professionals. Crowd queries are fast, easy and specialized for the healthcare industry. Micro surveys facilitate fast response rates, while specialized crowdsourcing provides answers within hours, even minutes. InCrowd is the only company offering healthcare focused real time market research. For more information, visit incrowdnow.com.