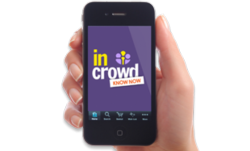 We connect innovators with seasoned practitioners looking for better ways to overcome business challenges. InCrowd is one of the firms we believe exemplifies innovation and we're excited to have them participating. -Conference Chairman Leonard Murphy
Cambridge, MA (PRWEB) June 14, 2013
How do people advance innovation within the market research industry? That's the big question addressed during the 2013 Insight Innovation eXchange series. The next event, held in Philadelphia June 17th through the 19th, is designed to help companies navigate the changing future of consumer insights.
With change squarely on the horizon, how do people adapt and use technology to their benefit when listening to their customers? During the conference, Janet Kosloff, CEO of InCrowd, will present information on how the successful companies of today collect, process, and act upon market feedback in real time - across all aspects of their business.
"We can't stop change or even slow it down for that matter; but we can look at the current marketplace and learn from those companies that are leading the way," said Janet Kosloff. "We can learn from their success. What are they doing that sets them apart from other companies? What tools are they using to help them better manage their business on a daily basis?"
Going forward, successful companies will have closer, more meaningful ties to their customers. Ties that allow them to listen, hear and interact in real time. The Insight Innovation eXchange brings together people, ideas and technology poised to bring about the next revolution in marketing insights. We invite you to hear Janet speak in Philadelphia on Monday June 17th at 11:20 AM EST. If you're unable to attend the conference drop us a line and we'll be happy to share her presentation.
About InCrowd, Inc.
InCrowd's (Twitter @InCrowdNow) on-demand platform provides direct and immediate access to Crowds of screened and targeted healthcare professionals. Crowd queries are fast, easy and specialized for the healthcare industry. Micro surveys facilitate fast response rates, while specialized crowdsourcing provides answers within hours, even minutes. InCrowd is the only company offering healthcare focused real time market research. For more information visit http://www.incrowdnow.com.