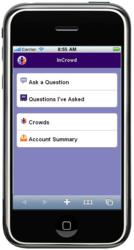 Our goal at InCrowd is to provide our clients with a competitive advantage
Boston, MA (PRWEB) November 01, 2011
InCrowd has developed an innovative do-it-yourself market research platform providing the global life sciences industry with immediate market feedback. The disruptive nature of the platform, delivering real-time vs. wait-for-it data, is forever changing how market research professionals access their target markets.

Market feedback in hours vs. 2-6 weeks for results
24/7 InCrowd platform eliminates research set-up time
Capitalizes on the time-value of data
Crowdsourcing yields immediate insights
The InCrowd platform connects pharmaceutical, medical device and life science companies with Crowds of screened and targeted health care professionals via propriety mobile and browser-based technologies. This specialized crowdsourcing provides answers within hours, even minutes. The do-it-yourself aspect of the platform ensures easy and rapid question creation; while the single question format facilitates rapid Crowd response.
Janet Kosloff, Co-Founder and CEO of InCrowd, explains the value of real-time data in the highly competitive life sciences industry. "Our goal at InCrowd is to provide our clients with a competitive advantage. Their business rivals can continue down the path of traditional market research, while InCrowd clients access previously untapped data in-the moment."
She goes on to say, "Imagine the power of crowdsourcing a group of physicians within hours of product launch and initial detailing by your sales representatives. You now have access to market information that was previously untappable for several weeks. Think of the advantages your company can realize simply by accessing and acting on real-time data. We see this is a game changer for our clients."
ABOUT INCROWD
InCrowd was launched in March of 2010 by Janet Kosloff, CEO, Diane Hayes, PhD, President and Kathleen Poulos, Senior Vice President. Together the co-founders bring over 60 years of medical, business technology and market research knowledge to the company. InCrowd provides the life sciences industry with immediate access to health care professionals through a do-it-yourself platform designed to capture market insights. The disruptive innovation behind the InCrowd platform is breaking the chain of wait-for-it data and creating a link to knowledge in the moment.
For more information watch InCrowd's Client Tutorial
CONTACT
Kathleen Poulos
Senior Vice President
Kathleen(dot)Poulos(at)InCrowdNow(dot)com
949.285.6375
###