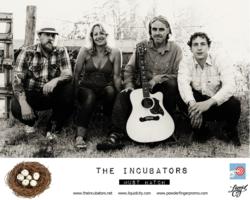 "hummable Americana-driven mid-tempo pop that folks love" - Babysue
San Francisco, CA (PRWEB) November 27, 2012
The Incubators debut release, "Must Hatch," is a varied mix of groove-based roots rock. Based out of Petaluma, California, home of the Must Hatch Incubator Company, The Incubators are a nest collective of talented players and writers fronted by singer-songwriters Katie Freeman (Cosmic Freeway) and Chris Chappell (7th Generation), and supported by bassist Max Ramey (Davis Ramey).
The mix of male and female vocals throughout "Must Hatch," a critical aspect of their sound from both a vocal and songwriting perspective, gives the album spontaneity. "Dead River Blues" and "Soul Ride," both album tracks, feature multiple instrumental sections that act as showcases for The Incubators' musical talent, while "Trustin' You" and "Down The Road" have more of a vocal/song focus. Must Hatch is the result of Chris and Katie meeting four years ago and realizing as writers that they both wanted to collaborate and have a male/female fronted band. Chappell says, "we wanted the music to be song-based in the Rondo form, and we built instrumental sections that gave our players an opportunity to shine." Overall, the listener is drawn into "Must Hatch" by the wide array of styles and instruments used on each track.
Drawing on the abundance of top-notch musicians in the San Francisco Bay Area, "Must Hatch" is packed throughout with performances by established Bay Area talents such as organists Melvin Seals (Jerry Garcia Band), and Mike Emerson (Carlene Carter, Blues Broads), guitarists Scott Law (Darol Anger, Brokedown In Bakersfield), Chris Haugen (Poor Man's Whiskey), Chris Rossbach (Zigaboo Modeliste, Bobby Vega), Matt Silva (John Cipollina), Ian Lamson (Elvin Bishop), drummers T Moran (Starship, Coldblood) and Dale Fanning (Materialized, Living Daylights), and vocalist April Grisman. Mixed by Oz Fritz (Tom Waits, Bill Laswell), "Must Hatch" was recorded on analog tape and employs vintage instrumentation true to its rootsy yet eclectic orientation.
The Incubators release "Must Hatch" Friday, November 30th at 8PM
At the Session Room at Hopmonk Tavern
224 Vintage Way
Novato, CA 94945
http://www.hopmonk.com/novato/location/session-room/
Tickets: $10 - Ages: 21+
You can learn more about The Incubators at http://www.theincubators.net
If you have any questions, comments or would like to set up an interview please contact Melissa Zeigler: melissa(at)powderfingerpromo(dot)com.