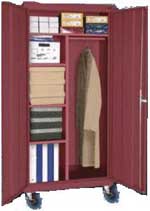 A Plus Warehouse Is Your #1 Source For Industrial Storage Cabinets
Dallas,TX (PRWEB) May 04, 2012
Manufacturers and many A Plus Warehouse customers require storage cabinets with heavy capacity. The industry has been pushing more and more customers into lower capacity commercial cabinets instead of industrial storage cabinets. Through the be industrious with industrial storage cabinets promotion, A Plus Warehouse is attempting to address this issue. A commercial grade storage cabinet may have a 150 pound capacity per shelf. This is adequate for basic office equipment and supply storage. Industrial usage may require 1000 pounds per shelf and greater. This is where industrial storage cabinets come into play.
The promotion encourages volume purchases of industrial storage cabinets by way of a freight ceiling. Through July 2012, A Plus Warehouse will charge no more than $1,500 for any industrial storage cabinet order when the customer informs the sales representative that the customer is being industrious with industrial storage cabinets. The program provides great value as orders get into the multiple thousand dollar level. To make the program simple, all industrial storage cabinets are covered – even the Stronghold all welded cabinets!
There are many reasons to order from A Plus Warehouse. According to Ed Stairman, " A Plus Warehouse is your #1 Industrial Storage Cabinets Source". A Plus Warehouse offers a whole array of quality storage cabinets for industrial consumption. Customers can even order some storage cabinets with slope tops or see through doors. See through doors are great in that customers can see the contents of a cabinet while the cabinet remains secured. A worker without clearance can tell if a storage cabinet needs to be restocked without opening the cabinet up! Slope top is used in environments where top storage is discouraged. A Plus Warehouse also stocks a variety of extra heavy duty stainless steel cabinets.
Industrial storage cabinet, unlike commercial cabinets are typically shipped all welded or otherwise set up. 12-16 gauge construction means the metal pieces would be prohibitively heavy for customers to assemble. Also, individual 12 gauge pieces would have a nasty way of breaking free on a truck. With freight rates negotiated by A Plus Warehouse, shipping is quite inexpensive , given the value of what is ordered. A Plus Warehouse is proud to have a fine line of manufacturer's products available for sale.
A Plus Warehouse is a broad line materials handling dealer offering value to customers coast to coast since 1996. The company strives to provide the highest level of service. Customers can call 800-209-8798 or use the ecommerce site