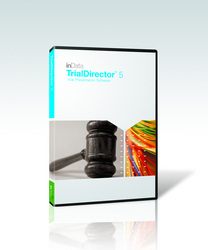 We've pursued an aggressive development path these past couple of years to improve our products. The results are reflected in the sales figures
Gilbert, AZ (PRWEB) February 25, 2009
inData Corporation, a developer of software for legal professionals, announced today that it achieved record-breaking software sales in 2008, the highest in the company's 20+ year history. Leading the way was the Company's TrialDirector® trial presentation software which posted a fifty-five percent (55%) increase in new licenses purchased compared to the prior year.
inData attributes the growing popularity of its software to continued product innovation and an ability to meet the changing needs of legal professionals, particularly litigators. The company released updated versions of both TrialDirector and TimeCoder™ Pro in 2008 (versions 5.2), accompanied by positive reviews. TrialDirector recently won the Law Technology News Technology Award for Trial Presentation Software for the third consecutive year, since the category was first created. inData's TimeCoder Pro, a newer software application used for video transcript synchronization, has also taken off in recent years.
"We've pursued an aggressive development path these past couple of years to improve our products. The results are reflected in the sales figures," said Derek Miller, CEO and President of inData Corporation. "This year in particular we've had an influx of new clients, some new to the technology and others who are switching to our products. We continue to grow because our software continues to evolve, meeting the needs of legal professionals."
"It's amazing how many law firms continue to embrace TrialDirector for trial presentation," said Brent Sandstrom, inData's founder and Lead Developer. "When we launched the product in 1996, the electronic revolution had just begun. Now it's becoming commonplace for lawyers to use digital evidence in the courtroom. People, including jurors, have come to expect more than paper to tell a compelling story. We've come to expect the visual effects we see on CNN, or videotaped action as seen on reality television shows. TrialDirector delivers just that, captivating the jury's attention."
TrialDirector is inData's popular trial presentation software utilized by litigators nationwide.  TimeCoder Pro is inData's automatic transcript/video synchronization software widely used by legal videographers, court reporters and law firms. For more information about inData's products and services, visit indatacorp.com or call 800-828-8292.
 
About inData Corporation
Founded in 1985, inData is a technology company specializing in the management and presentation of information. It is a privately held company, headquartered in Gilbert, Arizona. inData develops innovative software and provides personalized trial consulting services for legal professionals dealing with the challenges of litigation. Software products include the best-selling trial presentation software, TrialDirector, in addition to TimeCoder Pro, DepoView®, TimelineXpress®, and inData inVentory™.
 
###