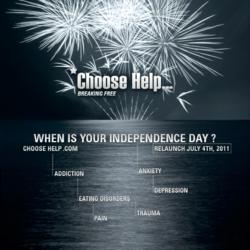 The Internet is potentially the best place to find solutions for a life crisis
Los Angeles (PRWEB) July 04, 2011
The Internet is "potentially the best place to find solutions for a life crisis," said Martin Schoel, founder of ChooseHelp.com. "Web sites such as ours are the modern versions of traditional crisis centers that offer help around the clock in times of need and despair."
"We give people a place where they can easily access local assistance, ask questions to qualified mental health professionals and browse through a comprehensive resource section. People need a safe place to explore their issues and to learn more about treatment options; hopefully so they can get inspired into positive action before an addiction runs its inevitable full course of destruction."
Schoel, who lost a 21 year old brother in an alcohol-induced accident in 1997, said, "had there been an internet service back then providing guidance on suitable treatment from the anonymity of home he would have felt more comfortable seeking the help he needed - and would probably still be alive today."
"Many people seek treatment only after enduring financial ruin, the breakup of a family or the destruction of a career, but there is no need for anyone to hit such a rock bottom" said Schoel. "We succeed whenever we inspire and facilitate change for any person – it's why we do what we do."
Choose Help's Editor, John Lee, added, "over the last few years we've had literally thousands of phone calls and emails from people hungering for change and ready to get some form of treatment, but just not quite sure what they needed or how they could possibly get it. The developments being released on the web site today are designed to really help people get the accurate info they need in a more personalized way – and right away."
Under the headline 'Breaking Free' the web site ChooseHelp.com has been providing comprehensive mental health services since 2007. It is independently owned, operated without bias and features treatment providers that are carefully screened for accreditations and up-to-date licenses.
The site is designed to improve the ways people find help for the problems in their lives; or the lives of loved-ones. Choose Help has grown to meet the evolving needs of people seeking help; and now offers personalized crisis intervention services like an 'Expert Q & A' where licensed therapists and clinicians respond to queries, provide guidance and participate actively in a user's search for information and solutions.
"Our information architecture allows us to continually add interactive services to our portal" said Schoel, "and we are working on many more innovative solutions still to come."
Like every Independence Day begins as a celebration but sometimes ends in great tragedy, every recovery begins in tragedy but sometimes ends in great celebration. Choose Help exists to facilitate this miracle and the major improvements released today underscore the commitment to helping users choose a better life… by Choosing Help.
###