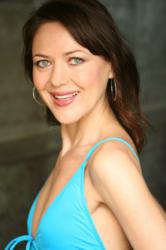 Remember, a song is like a baby. You carry it inside and then you bring it to life. Create and be grateful for the gift you have.
Roseland, NJ (PRWEB) July 31, 2012
Singer songwriters have many trials and tribulations as they try to make a name for themselves in the world of music, and nobody knows that better than European crossover artist, Elvita Kalnik. Singing and performing since the age of 5, Elvira Kalnik has had her fair shares of hard times that paid off after a huge break in her singing career after the release of her last album, "Peachy Pink." As a risk taker herself, Elvira Kalnik lists her top 10 most important lessons she has come to learn as an artist, producer and human being to help other aspiring artists achieve their dreams as well.
1. Don't let your profession dictate who you are
2. Determine your reason for being an artist
3. Don't limit yourself with "realistic" goals when you're trying to achieve your dreams
4. Don't overestimate or underestimate your personal value
5. Find yourself as an artist, stand out and sparkle
6. Make sure you are consistent in your routines
7. Set your own pace and don't overwhelm yourself
8. Network. Network. Network. Connect with other artists for advice, information and help.
9. Utilize the Internet's resources like sites including Reverbnation, Sonicbids and CDbaby. Internet radio stations like Last FM and Jango are also really helpful
10. Don't forget what your real job is – creating music.
"Remember, a song is like a baby," says Elvira Kalnik. "You carry it inside and then you bring it to life. Create and be grateful for the gift you have."
Elvira continues to revolutionize music industry norms by experimenting and changing her musical crossover styles to create new and exciting sounds. The media has praised her unique ability to mix the un-mixable and her Ukraine and German conservatory professors call her a "classically trained diva with a rock and roll mind." Her new single, "I Wish to Practice Me" is coming out soon.
About Elvira Kalnik
Singer songwriter Elvira Kalnik is a European crossover artist who sings a variety of musical styles including contemporary pop, jungle music with an operatic quality, and gentle rock. Born in the Ukraine, Elvira has received high music and vocal education in both Ukraine and German conservatories. She has been writing songs since she was 14 and produced her first album when she was 15 years old. Her breakout album, Peach Pink, is a mixture of melodic styles with the lyrics written by her husband. Her next album, Magical Child, is in the works.