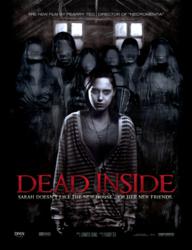 'Dead Inside' is heavily character-driven," says producer Zhang. "Gore and ghosts aside, it's a story about a girl struggling to overcome the trauma of being bullied, and about teens whose fatal flaws push each to unspeakable acts.
Los Angeles, CA (PRWEB) January 24, 2012
"Dead Inside" – a new film written/produced by Jennifer Zhang that signals director Pearry Teo's return to independent horror – will be debuting at Sunset Gower Studios on February 24, 2012 as part of a special screening presented by NewFilmmakers Los Angeles. Beyond the film's stylistic direction which blends American slasher elements with Asian ghost horror, "Dead Inside" is notable for a cast and creative team that includes Asian Americans striving to make their way in entertainment, and for the unique condition of being financed by a group of eight young Google engineers who share a love of film.
The movie also marks the first major on-screen starring role in a feature for international voice actor Matthew Mercer, whose vocal talents have given life to iconic characters in such popular franchises as Street Fighter, World of Warcraft, and Mortal Kombat. Most recently, he can be heard as the voice of "Tygra" in Cartoon Network's hit "Thundercats" reboot.
"Dead Inside" tells the story of Sarah (Lala Hensely), a mentally disturbed teen who has a terrifying premonition one night when a group of high school students descend upon her home uninvited for a party. After she reveals to her houseguests that they are in grave danger, they react with hostility – brutally forcing her history of psychosis into light and ostracizing her. But as the night progresses, existing tensions are exposed and the teens begin to turn murderously against each other. Sarah must determine whether the ghostly visions that haunt her represent the preventable or the inevitable, or something entirely more sinister.
Before tapping the talents of Teo and Wally Pfister-trained cinematographer Polly Morgan, Zhang presented the script to a group of young Google engineers and tech world entrepreneurs who gathered nearly every Wednesday to watch movies at an event they dubbed "Drunk Movie Night." Their decision to invest launched the film into production mid-2011, under the banner of DMN Films – the company they formed and named for the weekly tradition that brought them together.
"Dead Inside" marks Chinese American filmmaker Jennifer Zhang's feature debut. Previously known for her fan-based work on the web as a producer and star of viral short films ("Street Fighter High", "Batman: Death Wish"), the "nerdcore" fan base and significant media attention she subsequently garnered lead her to gather the resources she needed to get her first feature film green lit.
The movie is the fourth for Singaporean-born director Teo, who recently signed to direct the $10 million feature "The Return Of Captain Nemo" starring Hugh Bonneville and "Captain America"s Hayley Atwell. "Dead Inside" represents his first independent horror film since the success of his 2009 cult hit "Necromentia."
"Dead Inside" stars newcomer Lala Hensely as "Sarah" in a performance that has drawn early critical praise. Also noteworthy among the diverse cast is Korean-American actor James Adam Lim in his theatrical debut. The film boasts another inclusion of an Asian American in a key creative role with Glenn Suravech, the Thai-Japanese composer to whom "Dead Inside" owes its haunting score.
"Dead Inside" premieres the evening of February 24, 2012 at Sunset Gower Studios (1438 N. Gower St., Hollywood CA 90028). The NewFilmmakers LA-hosted screening will be preceded by a red carpet event and followed by a Q&A session and reception.
Interview opportunities and complimentary tickets to the premiere are available to members of the press upon request.
The "Dead Inside" press kit is available for download on the official site.
For more information, contact:
Jenn Chang, Publicity
Jennifer(at)dmnfilms(dot)com
(310) 751-7034
###