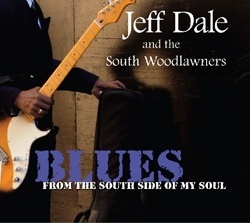 We did not know who these kids were but they had our undying admiration.
Los Angeles (PRWEB) February 24, 2009
While the music industry continues to experience a decline in retail album sales, many artists are discovering the power of viral marketing through the Internet. Musicians and fan bases interact directly through MySpace and independent websites, creating a buzz outside the marketing and publicity campaigns that major labels reserve only for mainstream acts. The debut CD "Blues From The South Side Of My Soul" by Jeff Dale and the South Woodlawners is an example of this phenomenon. With little more than a MySpace page, YouTube posting, and their band website, the album's track "Love My Baby Blind" made it onto the playlist of the nationally acclaimed weekend blues show on KKJZ after being picked up on several Internet-based blues stations.
"More people have heard my music in the last six months via the Internet than in ten years of playing club dates," Jeff Dale said. His site features a mashup with nimbit, which offers artists a way to sell tracks directly to their fans or MySpace. His MySpace site, launched almost a year ago, has received over 12,000 hits. Placement on YouTube at http://www.youtube.com/watch?v=qvY0QDG_eC0&feature=related has also increased visibility, adding to the routes that listeners can use to find his music.
"Blues From The South Side Of My Soul," on the private Pro Sho Bidness label, includes 11 tracks backed by the South Woodlawners and features contributions from Lee Loughnane (founding and current member of Chicago), Jeff Stone (Zac Harmon Band), and Lightnin' Dan Sonenfeld (Blue Wave Band). From the explosive power of the title track to the raw slide guitar and percussion of "Third Rail," the disc traces Jeff's eclectic influences rooted in the blues of his native Chicago. "Love My Baby Blind" might be the only blues song ever recorded with a bassoon solo. The band debuted the album on January 30th at a CD release party in Rush Street, a Chicago-flavored restaurant and bar in Culver City.
Born and raised on the south side of Chicago, Jeff Dale started playing guitar at age 12, and through his teen years studied the performances of Muddy Waters, Howlin' Wolf, Buddy Guy & Jr. Wells, Hound Dog Taylor, Otis Rush, and The Siegel Schwall Band among others who regularly played in legendary Chicago venues. He eventually co-founded the Blue Wave Band in Los Angeles in the late '70s, and had the opportunity to meet Muddy, Albert King and Willie Dixon as well as play with West-Coast blues stalwart Lowell Fulson, Long Gone Miles, Pee Wee Crayton, Etta James and Clifton Chenier. The Blue Wave Band released two records of Jeff's original material on Cool and Usual Records: "What It Is" in 1986 and "Modern Blues" in 1988. Both albums garnered industry praise and awards.
Jeff abruptly stopped playing after a gig at the famous Palomino club in late 1988, and disappeared from the blues scene. Twenty years later, Jeff resurfaced with a new band called The South Woodlawners. "When I was a kid and we acted up in class, our teacher would accuse us of behaving like a bunch of South Woodlawners," Jeff explained. "We did not know who these kids were but they had our undying admiration."
Why resurface now? "You can have all the technique in the world when you're young but you gotta live a life and become a grown-ass man to really know and feel the blues," Jeff said. "Now, like my heroes, I got a lot to say in my songs. When I poked my head up after 20 years to see which way the wind was blowing, it seemed like the right time to reach out and develop new friends and fans all over the world using a tool that didn't exist back when I was slogging it out in the clubs every night."
CD available at: jeffdaleblues.com and Myspace.com/jeffdalethesouthwoodlawners
# # #