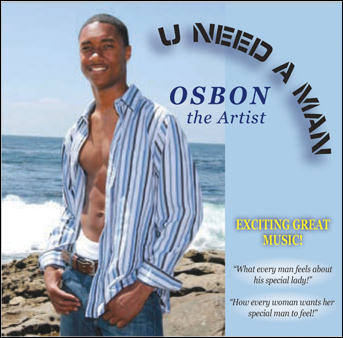 Not Ready To Make Nice
Zionsville, IN (PRWEB) March 12, 2007
The independent artist, "Osbon", has released his 1st CD on the Solid Music Record Label on March 1st, 2007 through CD Baby (http://www.cdbaby.com/cd/osbon) and digital distribution sites.
If anything can be said about the 2007 Grammy's it would be that there is a return to acknowledging "Solid Music". Take a look at the "Song of the Year" nominees and winners: "Be Without You", Mary J. Blige; "Jesus, Take The Wheel", Carrie Underwood; "Not Ready To Make Nice", Dixie Chicks; "Put Your Records On", Corinne Bailey Rae; "You're Beautiful", James Blunt. All truly remarkable songs!
"Solid Music" is what has saved the Music Industry. Independent artist "Osbon" is on his way to reach his dream of being a Grammy Nominee and Winner with his new CD release, "U Need A Man!" With a fresh Pop/R&B style, Osbon's songs are classically Solid Music. The lively rhythms, moving grooves and engaging lyrics entice you to sing along, snap your fingers, think about your favorite girl (guy) and shake your booty!
Solid Music can be classified as music that has "cross genre appeal" because it ultimately is a great song! Osbon's CD "U Need a Man" was taken to "In Cahoots", the hottest country-western dance club in San Diego, California. When the DJ (Mr. Brown) played the single release "I Desire U", the entire club began to scream with excitement and the dance floor quickly filled! Keep in mind, this was a place full of "good ol' boys and girls" and they absolutely loved this heavy bass rhythmic R&B track!
"Osbon"
Vocalist, Musician, Composer, Producer
"When the first time people recognized that I was an exceptional vocalist I wondered why. At around seven years old I realized that I looked at music differently from the other kids. To me it was all about the feeling that a song would give me. I found it amazing that I could listen to an artist and feel their sorrow, pain, happiness and excitement all from a song. Listening to a vocalist was something that I never get tired of doing because all I have to do is listen to a different song to get a different feeling from it."
Join us on Osbon's journey from talented tenor to internationally acclaimed vocalist, composer, musician and producer. Allow the velvet voicing of OSBON to reach you, touch you and move you with his heartfelt interpretation of original music composed to entertain you as it enriches your life.
See why Osbon is the "Next Business Branding Opportunity"!
Osbon grew up in San Diego, California and all of his songs were written and produced by Darrell Vann for Watsounds Productions in San Diego, Calif.
"What Every Man Feels About His Special Lady"
"What Every Woman Wants Her Special Man To Feel"
Osbon's CD, "U Need a Man" is released on the Solid Music Records label and is available for listening and purchase at http://www.cdbaby.com/cd/osbon
Solid Music Records
Al Scaife
President
Valroy Watson
Watsounds Productions
President
http://www.thesolidmusicco.com
317-908-5395
###