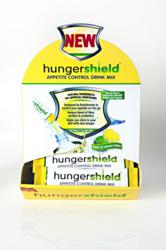 Store owners making the buying decisions immediately understand the value and want to get HungerShield in front of their customers.
Scarsdale, NY (PRWEB) July 31, 2012
Swift service, satisfaction, accuracy and personal care are all reasons why a majority of survey respondents reported being highly satisfied with local independent pharmacies when compared to national chains, according to a 2011 Consumer Reports study. High scores were reported for pharmacists' knowledge of medications, but also, staff got top marks for their familiarity with the many other products offered in their stores.
Included in these other products, are the select group of health and nutrition products independent pharmacies seek out for their communities. "As both clinicians and product owners, we wanted to make sure we worked with distributors that appreciated the credibility, quality and differentiation our product offers when compared to other weight loss products," says Elizabeth Pecoraro, MS, RD, HungerShield co-founder. "Store owners and other experts making the buying decisions immediately understand the value and want to get HungerShield in front of their customers."
With natural ingredients and developed by Registered Dietitians, HungerShield (http://www.hungershield.com/) launched their Appetite Control Drink Mix in the Tri-State area a little over two months ago. The launch was met with great enthusiasm from local pharmacists, as demonstrated by HungerShield's quickly expanding list of independent pharmacy locations, which is now more than 20 and growing daily.
Michael from Stratton Pharmacy in Scarsdale New York says, he is "happy to have a natural weight loss option to offer to his customers." Stratton Pharmacy was HungerShiled's first local pharmacy partner, and, according to Michael, they are "happy to support a product created by a local healthcare professional and resident." Pharmacies like Stratton pride themselves in "offering personalized service and high quality products."
"Customer feedback has been really positive," says Gregory Ferraro, owner of Robert Jacobson's Surgical Pharmacy in Mt. Kisco, New York. "It's great to have a weight loss product with no sugar and active ingredients that is also good for you."
About HungerShield
HungerShield is an innovative appetite control drink mix created by four registered dietitians, Elizabeth DeRobertis MS, RD, CDN, CDE, Heather Zeitz RD, CDN, Elizabeth Pecoraro MS, RD, CDN and Dafna Chazin MS, RD, CDN. HungerShield is the only product currently on the market that contains all natural ingredients, has high quality sources of fiber and protein as well as probiotic bacteria that promote digestive health. It is also the only product in this category that was created by healthcare professionals and can work with any diet plan on the market. HungerShield is currently being sold in select pharmacies, fitness centers, health care offices, health food stores, and also online. Visit us at http://www.hungershield.com to learn more.