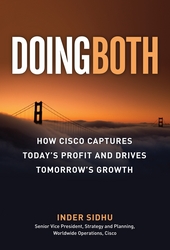 "Most business leaders wrestling with two divergent choices will select one option and pursue it relentlessly, but this strategy simply won't cut it in today's complex business world," says Sidhu. "By compromising, these leaders are missing opportunities
San Jose, CA (PRWEB) July 7, 2010
Every day, business leaders face tough choices: run today's business or invest for tomorrow; nurture innovation or drive operational excellence? Most react by making a difficult tradeoff to pursue their objectives, but the result is rarely the desired outcome.
These daily dichotomies set the stage for Cisco Senior Vice President Inder Sidhu's book, "Doing Both: How Cisco Captures Today's Profit and Drives Tomorrow's Growth" (FT Press, July 2010), which has earned the #5 bestseller spot on Amazon.com. Challenging conventional wisdom, Sidhu illustrates how the key to decision-making and business success is "doing both" – taking on two seemingly opposing activities and leveraging each for the benefit of the other.
"Most business leaders wrestling with two divergent choices will select one option and pursue it relentlessly, but this strategy simply won't cut it in today's complex business world," says Sidhu. "By compromising, these leaders are missing opportunities to move their businesses forward."
Doing both means approaching every decision as an opportunity to seize, rather than a sacrifice to endure. With his first-hand experience as a longtime Cisco executive, Sidhu shows how to achieve new opportunities for profits and growth by refusing to accept that tradeoffs are the only way. Over the past seven years and in a highly unstable global economy, Cisco – the global leader in networking equipment – doubled revenue, tripled profits and quadrupled earnings per share by pursing the doing both strategy. Drawing on Cisco's insights and the lessons of companies like Procter & Gamble, Whirlpool Corporation and Harley-Davidson, Sidhu presents a complete blueprint for doing both – that can be applied to any organization.
"Doing Both" is endorsed by top business leaders including CEOs Jeff Immelt of GE, Ratan Tata of the Tata Group, Kris Gopalakrishnan of Infosys, Sir Terry Leahy of Tesco and Marc Benioff of Salesforce.com, along with renowned thought leaders Gary Hamel, Clayton Christensen, Ram Charan, Laura Tyson, Warren Bennis, Henry Chesbrough and more. The book currently ranks in the Amazon Top Ten for business books and holds the #2 position in the management and leadership category.
About The Author
Inder Sidhu is Senior Vice President of Strategy and Planning for Worldwide Operations at Cisco. A member of the company's Operating Committee, he also co-leads Cisco's Emerging Countries Council, which drives business success in fast-growing geographies. From 2006–2009, Sidhu co-led the Enterprise Business Council, which is responsible for Cisco's corporate business, representing about half of the company's total revenue. Before joining Cisco in 1995, Sidhu was with McKinsey & Company. He has also worked at Intel and Novell.
For more information about this book and to view a video Q&A with Inder Sidhu, please visit http://www.doingboth.com. Connect with Sidhu on Twitter and LinkedIn.
About FT Press
FT Press (http://www.ftpress.com), an imprint of Pearson, publishes high-quality books in the areas of General Business, Finance and Investing, Sales and Marketing, Leadership, Management and Strategy, Human Resources, and Global Business. Our brand is built on the concept of signing and publishing the world's best minds on the most relevant topics.
"Doing Both: How Cisco Captures Today's Profit and Drives Tomorrow's Growth" (FT Press, ISBN 13: 9780137083640, Hardcover, $24.99, July 2010)
###