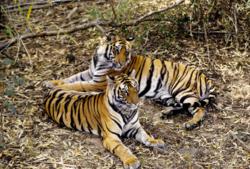 Washington, DC (Vocus/PRWEB) March 25, 2011
The Indian government will unveil new wild tiger population numbers at a major meeting of the 13 tiger range countries on Monday. The figures are expected to be announced at 12:30am ET Monday (10:00am in New Delhi) at the opening of the International Conference on Tiger Conservation which will be held in New Delhi, India on March 28 to 30, 2011. Hosted by the Indian government, the conference marks the first follow-up meeting of countries with wild tiger populations following November's tiger summit in St. Petersburg, Russia. India is home to more than half of the world's remaining wild tigers. World Wildlife Fund (WWF) is working closely with India and the other tiger range countries in an effort to double wild tiger numbers by 2022, the next Year of the Tiger. WWF has experts available to comment on the Conference and the significance of the new census figures.
ABOUT WORLD WILDLIFE FUND
WWF is the world's leading conservation organization, working in 100 countries for nearly half a century. With the support of almost 5 million members worldwide, WWF is dedicated to delivering science-based solutions to preserve the diversity and abundance of life on Earth, halt the degradation of the environment and combat climate change. Visit http://www.worldwildlife.org to learn more.
###