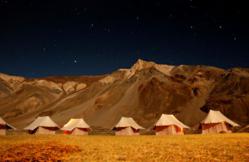 50 best places to know real India away from maddening crowd.
(PRWEB) May 11, 2012
It is not often that travel companies in India pay attention to the adventure side of things. While there are numerous lists and rankings on the best hotels in the country, and the top tourist attractions in different parts of India, there is seldom any focus on offbeat holidays and weekend getaways. Finally, that seems to be changing, the list of "50 best camps in India" the latest proof of that.
Thrillophilia, a company dedicated to adventure getaways, has come out with an exhaustive list of 50 best camps in India. The list features the best camps through the length and breadth of India. It has camps in the vicinity of treks in Ladakh; those located close to wildlife sanctuaries in Kerala; some close to not so popular but exciting experiences such as trekking in Sikkim and a lot more.
Thrillophilia, founded in2009, is known for organizing adventure trips across India. According to Abhishek Daga, Co-Founder Thrillophilia, "With the stressed lifestyles of today and rising income of average Indian, people in India are waking up to the potential of adventure and offbeat travel. We help them organize team building activities, performance enhancement exercises etc. by keeping adventure getaways as our focus. We are adept at organizing activities such as trekking in India on some well-known trekking trails and some offbeat ones too."
The list of 50 best camps in India is a part of a series of such initiatives taken by the company in the past to make people aware of the best adventure experiences in India. In the past, Thrillophilia has come out with a list of 101 best adventure activities in India, and a list of 51 offbeat destinations in India etc.
According to Daga, "Our target audience is people who are looking for the adventurous side of India. Adventure in India is just about beginning to pick up, and people still don't know what are the best places for an exhilarating experience in the country. Such lists are an effort on our part to make people aware of the best adventure experiences in the country."
Going by the lists released so far and what Daga has to say, Thrillophilia looks like a good bet for those who are looking for an adventure getaway in the country, be it trekking in Himalayas, river rafting, rappelling, or even jumaring, which is little known but an adventurous sport.