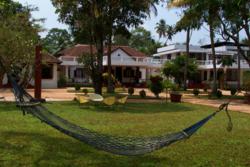 If you really want to visit the real India, get inside knowledge from great hosts, and leave the organising to a small, experienced, family-run company that creates individual travel tours, we're the people who can help you.
London, UK (PRWEB UK) 3 September 2012
A new breed of independent travellers to India are using a small London travel company called Home & Hospitality to tap into local knowledge, handpicked homestays, bed & breakfasts and trusted guides to create bespoke and culturally authentic travel experiences and tours in India.
Independent travellers in their thirties, forties, fifties and sixties demand comfort from their travel experience. They want the thrill of authentic cultural experiences off the beaten track as well as safe, comfortable and trustworthy accommodation booked in advance, in addition to tailored trips and expert local guides.
For the last 5 years the Gardiner family (Andrew Gardiner, daughter Kate and son, Ben), have travelled exhaustively across India to find the best small, family run and hosted homestays and guest houses. Their aim has been to answer the mature independent traveller's need for comfortable accommodation, safety and luxury.
At the same time, their homestays preserve all of the adventurous possibilities of being off the beaten tourist track. Homestays in India have been around for some years now. But the difficulty is knowing which homestays are memorable, comfortable and worth the effort and expense.
Andrew Gardiner of Home & Hospitality has just returned from a trip to Agra, where he has just put the finishing touches on a new Golden Triangle tour. Sourcing reliable guides, homestays and experiences, Andrew believes the best way to discover something new is to get stuck in with the locals. As an owner of successful travel businesses focusing on Europe and Asia for over thirty years, he is well placed to create such unique, new travel experiences.
"We have limited the homes on our site to the very best in either luxury, hospitality or cultural experience. There are no fillers!" says Andrew Gardiner, director of Home & Hospitality. "We've stayed in literally hundreds of places between us. The properties we've chosen represent the very best homestays in India."
The Gardiner family aren't the only ones who think so. The homestay properties they have picked have since hit the spotlight in Conde Nast Traveller, The Guardian and The Telegraph with favourable press.
"Our homestays allow independent travellers to tap into the knowledge, advice and experience of local hosts and guides. The result is a travel experience of a quality which you cannot find in guidebooks (which date quickly) and miss the many extraordinary sights, delicacies and spots that locals usually keep to themselves." Good friends Kapil and Chinni Bali, who have lived in India all their lives, coordinate operations on the ground, providing further assistance to travellers booking with Home & Hospitality.
Experts in Indian travel in their own right the Gardiner family estimate they have collectively spent over 900 days in India over the past 12 years. Home & Hospitality is rapidly becoming known as the concierge service for homestays and tours in India, with independent travellers approaching the company to organise bespoke packages – making the most of precious time, ensuring knowledgeable guides and reliable transport, as well as preserving the feeling of adventure which is often lost in traditional package holidays booked with large companies.
Home & Hospitality can organise trusted local guides and reliable car services to join up multiple destinations, homestays and locations. They will book accommodation, cars and guides to form bespoke tours of areas such as The Golden Triangle. At each destination, a comfortable homestay awaits and the opportunity of spending time with Indian hosts. The Golden Triangle tour, for example, includes visiting Agra and the Taj Mahal, then sweeps west to the popular tourist destination of Jaipur. Tours can both begin and end in the capital of Delhi. "It's easy to find a guide or a chauffeur in India, but finding ones that are good and reliable is a different story. What we offer is the reassurance of quality control." said Andrew Gardiner.
Homestays are almost invariably cheaper and better appointed than their hotel counterparts at a similar price. But the trick is choosing the right ones. Prices for homestay accommodation in India start from around £25 to £125 per night depending on amenities and the level of privacy and luxury available. "If you really want to visit the real India, get inside knowledge from great hosts, and leave the organising to a small, experienced, family-run company that creates an individual travel tour and experience meeting your needs, we're the people who can help you."
About Home & Hospitality
For over 12 years Home & Hospitality have travelled the length and breadth of India finding fabulous hosts and unique and interesting homestays. When you book with them, you share the benefit of the Gardiner family's extensive travel experience and contacts which help you make the most of your time.
For bookings, press and tour enquiries, visit http://www.homeandhospitality.co.uk