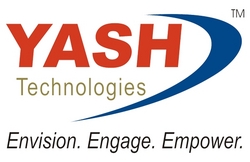 Indore, India (PRWEB) June 16, 2010
YASH Technologies, Pvtd. announced today that it has achieved gold-level status as an SAP channel partner in India through its participation in the SAP® PartnerEdge™ program. YASH Technologies is an SAP gold channel partner authorized to resell SAP Business All-in-One solutions to midsize companies.
"YASH has launched additional solutions in support of SAP Business All-in-One solutions in the United States and Indian markets, and this achievement allows access to even more tools and resources within the SAP PartnerEdge program," stated Bala Navuluri, chief operating officer, YASH Technologies, Pvtd. "We're able to bring leading, best-practice solutions to our customers quickly and more efficiently."
YASH attained the prestigious SAP gold channel partner status by meeting stringent criteria for product quality, proven industry expertise and high levels of customer satisfaction and sales proficiency through its participation in the SAP PartnerEdge program. Under the SAP PartnerEdge guidelines, SAP channel partners receive value points for achievements in core competencies and standout performances in the areas of customer training and satisfaction. By accumulating value points, YASH was able to move vertically through designated performance levels from associate to silver to gold.
SAP gold channel partners are recognized as experts in supporting and delivering SAP solutions. Gold channel partners provide industry-specific business solutions through sales, implementation, support and continuous improvement of information technology infrastructures with software, services, tools and operational support. The partnership provides YASH with access to the newest SAP technologies, allowing YASH and its customers to be in the forefront of SAP solution-based advances.
YASH offers the following solutions in support of SAP Business All-in-One solutions:

ChemOne for the chemical industry
TechOne for the high-tech software industry
ManufacturingOne for the high-tech manufacturing industry
CPGOne for the consumer packaged goods Industry
WholesaleOne for the wholesale distribution industry.
For more information, please visit http://www.yash.com/aio.
About YASH Technologies
YASH Technologies focuses on customer success. As a leading technology services and outsourcing partner for medium and large global customers, we leverage technology and our flexible delivery models to drive performance and business value throughout a customer's enterprise. YASH's comprehensive service approach incorporates a holistic view of our customers that extends beyond delivery. This approach integrates enterprise solutions and services, proprietary best practice offerings, strategic application and maintenance outsourcing, as well as consulting and integration services. YASH is a SEI CMMI (Level 3) and an ISO 9001:2000 certified company with U.S. and India headquarters and regional sales and development offices spread across three continents. YASH is also part of a select group of companies that are SAP -certified global providers of application management services. For more information, please visit http://www.yash.com.
SAP, PartnerEdge and all SAP logos are trademarks or registered trademarks of SAP AG in Germany and in several other countries.
All other product and service names mentioned are the trademarks of their respective companies.
###