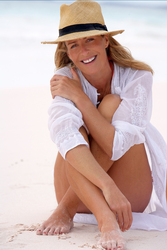 (PRWEB) June 24, 2010
Daughter of famed interior designer David Hicks and goddaughter to H.R.H. The Prince of Wales, India Hicks, launches a blog, where she will be sharing her life experiences as a working mother of four who balances life and a thriving career as a model, author, creative partner to luxury beauty brand Crabtree & Evelyn and owner of The Sugar Mill boutique in the Bahamas.
"Encouraged by my grandfather, Lord Mountbatten, my mother kept a detailed diary of her historical time in India during the transition of power." said India Hicks. "My diary will share much more mundane issues, like persuading my island children that removing all their clothes in the back of a London taxi is not acceptable, as well as my design inspirations and recent adventures".
India Hicks can also be connected with on Facebook and Twitter.
Journal: http://www.indiahicks.com
Facebook: India Hicks (http://bit.ly/IndiaHicksFacebook)
Twitter: IndiaHicksStyle (http://twitter.com/IndiaHicksStyle)
About India Hicks
India Hicks was born in London, England, in 1967. She is the daughter of famed interior decorator David Hicks. Her mother is Lady Pamela Hicks, daughter to the Earl and Countess Mountbatten of Burma.
Lord Mountbatten was the last Viceroy to India, and presided over the country's transition to independence in 1947. Hence India's name, being the last grandchild.
Lady Mountbatten was famous for her wealth and her beauty, and with her husband's royal heritage, they made the most remarkable union of the 1920's.
India was educated at Gordonstoun, in Scotland, where her Godfather, The Prince of Wales had been to school before her. She was chosen as a bridesmaid for the wedding of Prince Charles to Lady Diana in 1980.
Following school, India backpacked around the world for a year. She then attended a London foundation course in art before moving to Boston to take a degree in photography, graduating with honors.
W magazine featured India in an issue of 'New Beauties' which Ralph Lauren saw and subsequently booked her for a modeling job. A career on the other side of the camera was born.
India has since enjoyed years as a fashion model, being photographed by some of the world's most renowned photographers, Richard Avedon and Elliott Erwitt, among them. And for some of the world's leading magazines with her face endorsing many fashion houses and labels.
India has been filmed for television numerous times, recounting her day as a Royal Bridesmaid, for the BBC, ABC, Channel 4, and NBC. She has also been a guest on Larry King Live, The Today Show, The Oprah Winfrey Show and featured on CNN's Quest for Style. Most recently, she appeared as the host of the second season of the hit series "Top Design" which was syndicated globally.
David Flint Wood is the father of India's four children Felix, Amory, Conrad, and Domino. They presently live on a small island in the Bahamas, where they built or restored four plantation style guesthouses. They also invested in and redecorated 'The Landing' an 1800's building which is now a restaurant and hotel. India also has a shop, The Sugar Mill, where she sells clothes, bed linens, and eccentricities gathered from her modeling assignments around the world.
India is the author of two books, Island Life: Inspirational Interiors and Island Beauty. Part of the proceeds from these books has been donated to a small non-profit community school in the Bahamas.
In 2005, India began working with Crabtree & Evelyn, first as a brand spokesperson and then creative partner. Together they have developed two signature collections for the body and home: Crabtree & Evelyn India Hicks Island Living® and Crabtree & Evelyn India Hicks Island Night®. Both ranges are free of parabens, mineral oil, sodium lauryl sulfate and propylene glycol.
India is a first class horse rider having hunted during her childhood. She is also an advanced scuba diver, has bungee jumped, parachuted and hand glided. She snow ski's and water ski's, has climbed into the Grand Canyon, run three 26.2 mile marathon's, raising money for charities, roller blades and enjoys wake boarding.
###