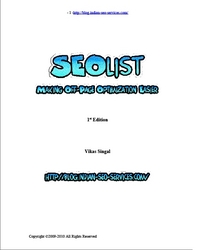 "SEOlist" is synopsis of Off Page Optimization.
(PRWEB) February 24, 2010
"Indian SEO services" has been setting the examples with its high quality services at different forums. Now the company is ready to take his success to next level by launching the First FREE EBook titled "SEOlist".
The book is available at the company's official blog. The book is said to be a synopsis of the Off Page Optimization. "SEOlist" contains this information in terms of lists:

SEO/Webmaster's Forums
Search Engines' List
Article Directories on the Web
Social Bookmarking Site's List
Deep Link Directories on the Internet
Online Press Release Sites
Classified Online
Blog Directories for Blog Submission
A Place to Submit RSS Feed
All the lists are based on the Alexa Rank which is a symbol of traffic in search Engine Industry. "SEOlist" has not used Google PR for any of it's list.
"The book has been kept very short from description point of view but it has got all the length in term of useful lists. We will keep on pouring content and keep on coming with new editions in future." Mr Aggrawal said in a press conference when asked about the book.
Indian SEO Services hopes to grow it's customer date base all over the globe with sublime services and excellent products waiting in the gallery, to be launched.
"The book will also be made available at various SEO Forum and EBook Community to let it reach every newbie of the Search Engine Optimization. Right now the book is made available at the company's official blog. The user has to just fill a subscription form to get the book." A company's spokesperson quoted as saying.
Official sources have confirmed that company is soon firming up on some sound decisions to phase out all the competitors of the SEO world. And it does not sound impossible in the internet world even with a company which is still to complete it's fist year of inception.
Sarkar Kumar
http://blog.indian-seo-services.com/
sarkarkumar09(at)gmail.com
###