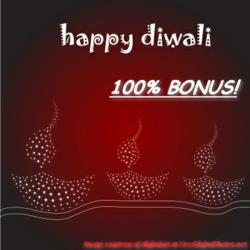 "I wish I could offer clients a chance to meet Priyanka Chopra live, but I hope they'll settle with a 100% trading bonus."
Dayton, OH (PRWEB) November 13, 2012
For the next three days, the Holiday of Diwali, Padwa, and Bhaiduj will be celebrated and CaesarTrade would like to add to the festivities with a 100% Trading Bonus for New and Old Clients.
As a student of financial history and on games of chance, ceo Eric Harbor found some interesting correlations with Forex and the Diwali festival. "Not only is Diwali the festival of lights, but it is also considered a lucky day to speculate on an unknown outcome, like Forex." Eric states and continues "some even say that if you don't speculate on Diwali there is a good chance of being reincarnated as a donkey."
CaesarTrade, with this generous bonus, is not only providing traders a chance to speculate but to do so with additional capital. CaesarTrade caters to the Indian FX and CFD traders with a wide selection of stocks from the National Stock Exchange to Rupee currency in both US Dollars and Euros.
Mr. Harbor summarizes the offer as such: "After seeing X-Factor, I wish I could offer clients a chance to meet Priyanka Chopra, but I hope they will settle with a 100% bonus. Her song summarizes what CaesarTrade is all about and if I could sing would go like:
Come on make some new friends
And tell me what you're trading
I know there's no place like home
But I know you gonna like CaesarTrade"
Company Information:
CaesarTrade FX * CFD was created for all kinds of traders, everything that we offer is geared towards the goal of saving a trader time and money through tight fixed spreads, 24 hr access, every Currency Pair along with CFDs that cover Precious Metals, Energy, Commodities, Global Indexes, and Stocks Worldwide - From the US to India.
For more information on forex trading visit: http://www.CaesarTrade.com.
You can also follow the company on Twitter and Facebook as well