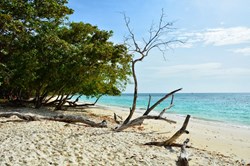 The Indian traveller is certainly becoming more demanding and bold in seeking new holiday experiences
(PRWEB) June 27, 2013
The Lonely Planet Magazine India, the favourite travel magazine among India's increasingly sophisticated travellers, has held its glittering award ceremony at the ITC Grand Central Hotel in Mumbai. For the second year running, the magazine has asked its readers to choose their favourite holiday destinations, their preferred hotels and airlines, and their most cherished holiday experiences. The readers voted in large numbers across forty different categories to identify the most excellent contributors to the travel industry.
The evening was presented by Shibani Dandekar, the former American television presenter, and was attended by a host of travel industry executives. A number of Bollywood stars also attended and their presence definitely brought a sense of style and glamour to the occasion. The magazine's commitment to awarding companies and destinations that make a valued contribution to the travel industry reaffirms its mission to guide and advise its readers on how to find truly special holiday experiences.
The Indian traveller is certainly becoming more demanding and bold in seeking new holiday experiences. Naturally, the travel industry must acknowledge this and strive to meet the demands of this new style of traveller. It is encouraging that many of this year's winners also received an award in 2012, thus demonstrating the readers' desire to award consistent quality. In fact, this is the second consecutive year that Thailand has won the Best Value Destination (International) award, which proves just how rich the country is in tourist attractions.
The award was received by Mr. Sethaphan Buddhani, the director of the Tourism Authority of Thailand, Mumbai, who expressed his pride in Thailand winning an award that is bestowed by such a world renowned travel publication as The Lonely Planet Magazine. The award is certainly well deserved as Thailand has so much to offer its overseas visitors. Whether tourists are seeking a city break or a beach holiday, the Kingdom of Thailand s stunning architecture, rich culture and natural beauty has something to please everyone.
Adventure holidays are also becoming increasingly popular, and tourists seeking adventure will find plenty of opportunities in the beautiful province of Krabi. From rock climbing on some of Krabi s magnificent limestone cliffs, to scuba diving in crystal clear turquoise waters among amazing marine life, Krabi is rich in pursuits to please the adventurous holidaymaker. There is also an excellent selection of holiday accommodation available. For instance, Krabi Riviera Co Ltd provides an outstanding range of villas that are ideal for couples, families or groups of friends. All villas offer 5 star comfort, including private swimming pools, a personal concierge service, and some first-rate complimentary services.
With such an excellent selection of facilities and tourist attractions, together with the receipt of a highly prized award in the travel industry, the future of tourism in Thailand looks well assured.