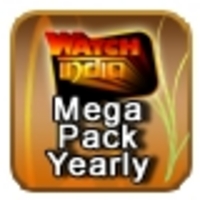 Full Unlimited Access to Over 40 Live Indian TV Channels for just $149 per year!
New York, NY (PRWEB) December 8, 2009
WatchIndia.tv has announced a special Holiday Season Offer. The new Indian TV Channel Mega Pack can be purchased online before December 31st with an incredible 50% discount. Indians living or working abroad can welcome the 2009 / 2010 holiday season with full unlimited access to over 40 premium Indian channels live from India for only $149.99 for a whole year.
For this low price customers can enjoy a powerful mix of programs across a number genres in Hindi, English and a range of regional languages. WatchIndia broadcasts the most popular entertainment shows, Bollywood movies, the hottest music clips, live news, current affairs shows, spiritual entertainment, sports magazines, soap-operas, game shows reality TV and more.
WatchIndia.tv's targets over 100 million Indians residing overseas permanently and temporarily. This includes the 22 million non-resident Indians (NRIs) working abroad and over 80 million Indians who travel during the year. WatchIndia.tv is offering this festive opportunity to stay connected family and friends in India through the broad range of culture and entertainment broadcasting. The power of the WatchIndia live India TV platform includes the ability for members to log in from any PC connected to the Internet and watch live India TV broadcasts, and take advantage of the Video On Demand service. WatchIndia.tv is the only online Indian TV broadcaster to record every program for convenient viewing at any time.
The holiday season is customarily a time when special shows, new movie releases are screened on live India TV and often times exclusive news broadcasts, it's traditionally a family period with much time spent enjoying each others company and sharing the broadcast entertainment offered by the major Indian TV channels. For Indians abroad this can be a particularly lonely time. WatchIndia.tv recognizes this and is offering the 50% discounted annual subscription to the entire network of over 40 channels for a limited time only during December, providing a sense of connection and belonging often missed during this festive period.
The "Indian TV Channel Mega Pack" contains the following channels: Times Now, NDTV Profit, Zee News, Zee Business, Zoom TV, 9XM, Zing, Zee TV, NDTV Imagine, 9X, Zee Sports, Zee Cinema, Shemaroo , WatchIndia Gold, Aastha, Aastha India, Aastha Bhajan, Zee Marathi, ETV Marathi, Zee 24 Taas, Saam TV, Saam TV, Zee Telugu, ETV Telugu, Zee 24 Gantalu, ETV 2, Vissa, Zee Bangla, ETV Bangla, Zee 24 Ghanta, ETV Kannada, Zee Kannada, ETV Gujarati, Zee Punjabi, Zee Tamil, Raj TV, Raj Digital Plus, Raj Musix, Raj News, ETV Urdu, ETV Oriya and Mahua TV.
ABOUT WATCHINDIA.TV
WatchIndia.TV is the first site from Live Asia TV, an innovative new Internet Television company, whose goal is to bring ethnic Asian programming to those residing in the Diaspora. WatchIndia.TV partnered with top rated networks in India including: Zee TV, Zee Sports, Zee Marathi, Zee Telugu, Zee Bangla, Zee Kannada, Zee Punjabi, Zee Cinema, Zoom, Times Now, Aastha, NDTV Profit, The Bollywood production house - Shemaroo Entertainment, NDTV Imagine, 9X and 9X Music, Saam TV, Mahua TV and ETV Network. WatchIndia.TV offers a unique service with a great value, better quality and more flexibility than traditional satellite providers.
###